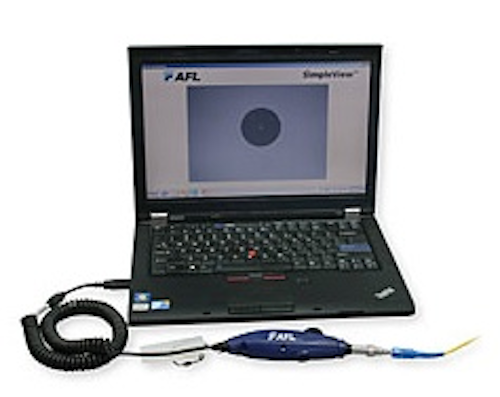 Spartanburg, S.C. and Lowell, Mass.—AFL is launching AFL SimpleView software for optical fiber and connector inspection. Fiber endface contamination is widely recognized as a key cause of network performance issues, outages and resulting in costly truck rolls. AFL SimpleView permits technicians to use existing field-issued laptops as a fiber inspection system by simply plugging in a NOYES DFS1 FiberScope.

"Our new AFL SimpleView application enables installers and activation crews to view high resolution endface images and quickly determine if cleaning is required," explains Bill Thompson, Marketing Director at AFL's Test and Inspection Division. "Documenting the as‑built or as‑found condition of network connections is now practical, quick and easy."

AFL SimpleView software is compatible with Windows XP and Windows 7 operating systems and requires a single USB 1.1 port.