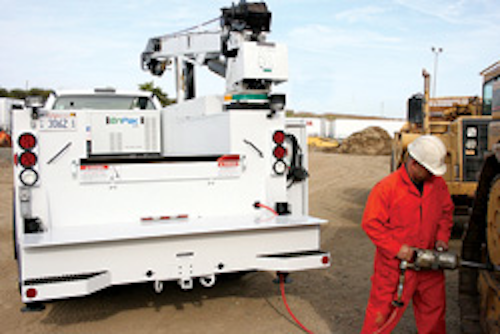 EnPak Mechanic Series—a truck-integrated, self-contained air compressor, hydraulic pump and generator—is available from Miller. The EnPak Mechanic Series eliminates the need for the power takeoff (PTO) commonly found in mechanic's trucks and provides mechanics with the necessary power to run air tools, hydraulic cranes and electrical equipment—all with the truck turned off.

Highlights and key facts:
• Diesel, engine-driven EnPak combines a rotary screw air compressor, hydraulic pump and a generator in a single unit;
• Mechanics can run air tools, a hydraulic crane and electrical tools—all with the truck turned off;
• Lowers fuel costs up to 30 percent, reduces truck engine hours up to 60 percent and lowers workspace noise by as much as 10 dB;
• Vertical exhaust diverts fumes up and away from the work area; and
• EnPak eliminates the need for a PTO and integrates seamlessly into a truck's electrical and fuel systems.

Miller Electric Mfg. Co.