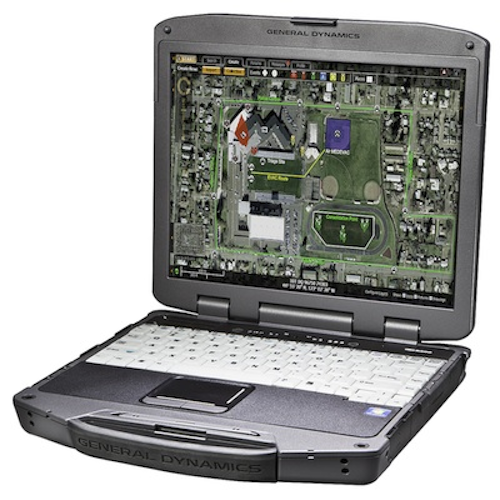 Sunrise, Fla.—General Dynamics Itronix has introduced the new, fully-rugged GD8200 notebook computer. The GD8200 delivers powerful computing, razor-sharp images in full sun and highly sensitive global positioning in a compact, fully-rugged case. Equipped with the new high-speed Intel Core i7 processor, the GD8200 easily handles hefty imagery, video and data files enabling increased worker productivity. For mobile users who work in cars, trucks, even combat vehicles, the GD8200 is cited to be the ideal balance between rugged durability and high-performance computing.

According to Mark Johnston, director of Strategic Computing Solutions for General Dynamics Itronix, "We've worked hard to earn the confidence of users working outdoors or in locations where conditions can be harsh and unpredictable. Making the GD8200 more power-efficient, smaller and lighter than most computers in the fully-rugged class means this rugged notebook is real-world ready."

Addressing mobile workers' critical need for wireless connectivity, the GD8200 combines Wi-Fi 802.11, Bluetooth and 4G mobile broadband technology to enable seamless roaming for uninterrupted connectivity. The battery-conserving, sunlight-viewable DynaVue II touch screen display is cited to deliver unprecedented clarity and detail when viewing maps and videos. The GD8200 also is designed for ergonomic comfort with standard computing operations and keys positioned for ease-of-use, day or night, with gloves or without.

The GD8200 meets U.S. military MIL-STD 810G, which includes punishing drops, shock, vibration, extreme heat and cold and an Ingress Protection (IP) 65 rating, sealing the unit against dust and water. It is also certified to operate in helicopters, withstand electromagnetic emissions and has passed rigorous crash testing for in-vehicle occupant safety.