Alpha XM3-HP CableUPS broadband power supply
Alpha Technologies introduces Alpha XM3-HP CableUPS outside plant broadband power supply.


Dec 2nd, 2011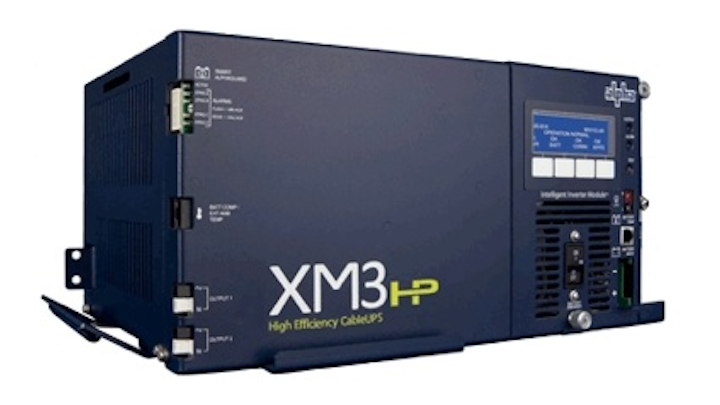 Bellingham, Wash.—Alpha Technologies Inc. has announced the introduction of its next-generation outside plant broadband power supply, the Alpha XM3-HP CableUPS, to address the ever-increasing power demands of today's sophisticated communication networks.

The Alpha XM3-HP Power Supply combines the time-tested, robust reliability characteristics of Alpha's power products with the internal intelligence required by today's high-capacity, high-speed, interactive communication networks.

Significant technological advancements across the entire power technology platform are focused on improved efficiency, optimized performance and reduced operating costs. From ground-breaking transformer design improvements to the integration of the most intuitive and user-friendly interface device ever offered, the XM3-HP Power Supply truly represents "next-generation" power technology.

"The XM3-HP's advanced design sets a new standard in power technology and focuses on reducing operating costs and optimizing the powering component of the network," commented Alpha President and COO, Drew Zogby. "Through advanced remote monitoring, network administrators can access detailed information including remaining battery life, in-depth utility performance reporting, and critical, forward-looking backup runtime capacities, all from a central network operation center."

This next-generation power platform saves users operating costs in at least (3) specific areas: the Reduction of Utility Power Usage, the Reduction of Truck Rolls, and the Optimization of Battery Life & Performance.

Reduction of Utility Power Usage: Reduced utility power requirements are made possible through innovative transformer design and much tighter output window regulation. This efficiency translates into less utility power being consumed and direct savings in network operating expenses. Operators will save literally millions of dollars over the life of the equipment, and these savings become especially beneficial in systems with large numbers of power installations and/or in regions with high energy costs.

Reduction of Truck Rolls & Associated Preventative Maintenance Costs: Reducing the frequency of on-site service calls to individual power installations allows operators to further reduce overall operating expenses. The XM3-HP's ability to remotely provide decision-making data with specific information on power system status allows for the reduction of expensive, on-site service calls and the ability to deploy company resources more efficiently.

Optimizing Battery Life & Performance: Optimizing battery life also has a dramatically positive effect on both reducing capital expenditures as well as reducing on-going operating costs. Advanced, 5-stage battery charging technology coupled with internal AlphaGuard Battery Balancing optimizes battery life expectancy. Real-time data capture of critical parameters, together with AlphaApps analytical reports, provide critical answers to predict service intervals and battery replacement schedules. Additionally, significant gains in inverter efficiencies translates directly into increased battery backup runtime rates, further improving network performance.

In addition to increased operating efficiency and greatly enhanced communication capabilities, the XM3-HP also provides - for the first time ever - critical predictability data, that allows users to significantly reduce both annual operating costs as well as lifetime capital expenditures.

"Forward-looking predictability empowers users to reduce and minimize truck rolls, optimize battery life and reduce utility power usage through right-sizing and load-matching individual power installations," commented company officials. "In essence, it's a yesterday-today-and-tomorrow view of the power component of the network."

The Alpha XM3-HP is available in several models to support both domestic and international applications. The product's design also includes many operational improvements. A shorter profile means the XM3-HP fits into legacy enclosures with limited vertical capacity, allowing operators to upgrade with the least possible cost. Another significant enhancement is the hot-swappable Inverter Module and Transponder Module, allowing service or upgrade of the power supply without taking the power supply off-line.

The Alpha XM3-HP CableUPS can be configured with an embedded DOCSIS transponder, fully integrated AlphaGuard battery balancing and an internal application card, allowing it to be tailored for optimal use.

Alpha also offers a full line of specialized Alpha ground and pole mount enclosures as well as the industry-leading AlphaCell battery offering, providing both protection and critical backup power to the network.

For more information about Alpha Technologies or other power supplies, click here to go to Utility Products' Buyers Guide.