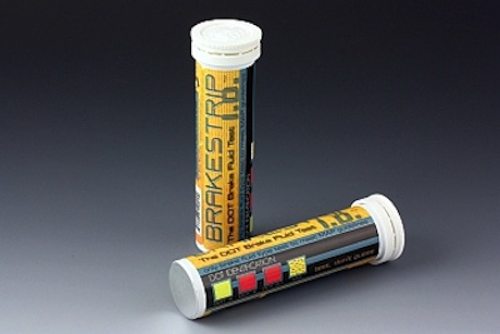 Phoenix Systems introduces BrakeStrip ID, a visual brake system performance test that quickly identifies the Department of Transportation (DOT) type of brake fluid in your vehicle.

Vehicle manufacturers design brake systems to use a specific type of fluid, and BrakeStrip ID is designed to ensure your brake fluid meets the proper specification for your vehicle. BrakeStrip ID, which identifies DOT 3, 4 and 5.1 brake fluids, also finds brake fluid that needs replaced.

Because you can't determine brake fluid type by looking at it, the easy-to-use BrakeStrip ID is one way to make sure your brake fluid is up to spec.

BrakeStrip ID is a Motorist Assurance Program (MAP) approved brake fluid test and features a three-year accuracy guarantee. It is available at leading automotive retailers and comes in a tube of 100 strips.

For more information about Phoenix Systems or other brake fluid testing, click here to go to Utility Products' Buyers Guide.