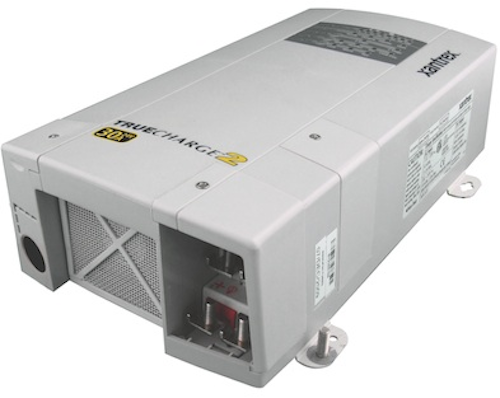 Vancouver, B.C.—Xantrex Technology announces the addition of three new 24V models – 10A, 20A and 30A to its top-selling TRUECharge2 battery charger line. This complements its existing portfolio of 12V battery chargers that includes models ranging from 10A to 60A. Developed for both commercial and marine applications, the new 24V chargers are designed to charge 24V battery systems for commercial construction equipment, power carts and transit buses, as well as trolling motors, dinghy davits, bow and stern thrusters in boats.

In addition, an upgraded design feature of the TRUECharge2 line* includes the capability for "parallel stacking." This allows two chargers of either 12V or 24V configuration to work together to combine the output current, achieving up to 120A for large battery banks. All TRUECharge2 models* use the same remote control panel, and accept 90-265 Vac and 47-63 Hz for global applications. Each meets stringent safety and regulatory standards including UL1564, UL1236 with marine supplement, ABYC and FCC Class B requirements.

"The TRUECharge2 battery charger series is one of our most advanced and successful product categories in the marine market," said Xantrex Director of Sales John McMillan. "We have incorporated the new parallel stacking feature to provide a wider range of power levels for our customers."

Added Xantrex Sales Manager for Commercial Markets William Tomkinson, "This versatile product is a result of our commitment to a customer-focused strategy. It is well designed to serve both commercial and industrial applications with 24V battery banks."

Just like its 12V counterparts, the new 24V battery chargers are housed in an efficient compact design and delivers intelligent charging for DC systems.

*Does not apply to TRUECharge2 12V/10A model
For more information about Xantrex or other battery chargers, click here to go to Utility Product's Buyers Guide.