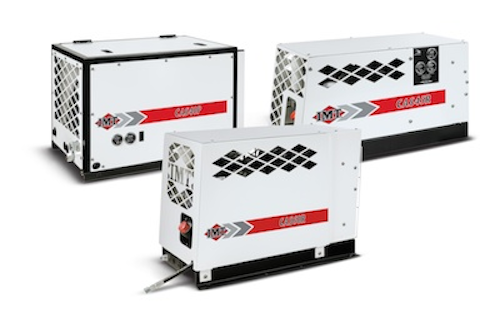 Garner, Iowa—Iowa Mold Tooling Co. Inc. (IMT), an Oshkosh Corp. company, (NYSE:OSK) introduced three new air compressors at the International Construction and Utility Equipment Exposition (ICUEE), Oct. 4 – 6, 2011, in Louisville, Ky.

The CAS45R and CAS60R rotary screw air compressors and the CAS40P reciprocating model are ideal service solutions not only for the construction and utility industries, but also for markets such as tire service, equipment dealers, propane, rental, railroad, mining, public works and waste.

"These three new IMT compressors deliver our customary reliable, durable, powerful performance at a competitive value," said Tim Worman, product manager for commercial vehicles at IMT. "By developing enhanced compressed-air solutions to fit various job applications, we continue to fulfill our commitment to being a full-service provider of commercial service equipment."

The CAS45R offers a rated capacity of 45 cfm at 150 psi, while the CAS60R provides air delivery of 60 cfm at 150 psi. Both new hydraulically driven, continuous-duty rotary screw units are single-stage, pressure-lubricated compressors designed for mobile applications. Ideal for heavy-duty use, the new rotary screw models provide high-volume air for use in pneumatic tools (e.g., jacks, saws, impact wrenches), tire service, sandblasting, painting and other mobile or stationary compressed-air needs.

Unlike their predecessors in the IMT compressor lineup, the CAS45R and CAS60R units feature a hydraulic aftercooler that is integrated into the compressor design. The elimination of the auxiliary hydraulic aftercooler provides multiple benefits, including a compact design that reduces weight and the physical footprint on top of the body sidepack.

IMT rotary screw air compressors provide air on demand, are lightweight and deliver dry, cool air, which extends tool life by allowing them to run cooler and with less moisture interfering with the lubrication. All of the air compressor components are self-contained—protected by a steel canopy to help minimize outside elements, which may affect the productivity of the unit.

The new CAS40P reciprocating compressor is a hydraulically driven, intermittent-duty model that delivers a rated capacity of 40 cfm at 100 psi. The unit is a two-stage, four-cylinder compressor designed for mobile applications that do not have high-volume air needs. Ideal for field mechanic use, it can effectively operate most pneumatic applications that support service work. The CAS40P unit provides increased air flow over its predecessor—which offered 35 cfm at 100 psi—but will not require additional maintenance costs.