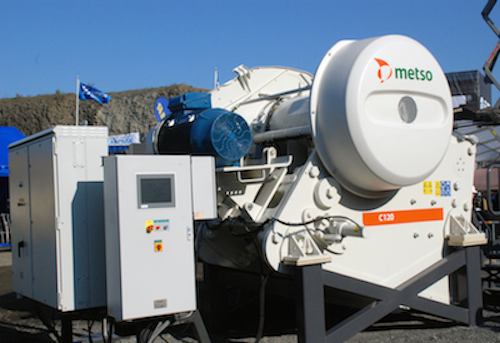 Metso's Mining and Construction Technology introduces the Metso C120 jaw crusher—the 13th member of the field-proven C-series range of crushers. Metso's C120 combines high reliability, crushing efficiency and versatility in both stationary and mobile applications with safety and ease of use.

Even at first glance, it is clear from the C120 that Metso has paid special attention to its new, durable and user-friendly design, which begins with the casting, the design of which is based on thorough FEA analysis and casting simulations. Every detail of the C120 is engineered for reliable operation and long life, resulting in high, constant crushing capacity and uptime.

"When starting the C120 project, we listened closely to our customers and collected field data from a number of sites. Based on that, we decided to design the crusher cavity and kinematics first. As a result, Metso can now offer aggregates producers, large-scale contractors and mining companies a new crusher that meets all the standards set for any demanding application," said Ilkka Somero, Metso's product manager for jaw crushers.

The high productivity of the C120 is guaranteed, thanks to several new design elements. The crusher novelty features a long and aggressively directed stroke, and a fixed jaw die longer than previously seen in this crusher size class. The C120 has a large feed opening of 1200 x 870 mm (34 x 47'') and an aggressive cavity cross section, securing a high performance and reduction ratio.

In terms of cavity volume and crusher weight, the C120 is positioned between the existing Metso C116 and C125 jaw crusher models.

The C120 is easy to install, thanks to its compact design, and includes an optional integrated motor bed and guards. Being well balanced, the C120 is quick, easy and cost-efficient to install through rubber mounting pads under the crusher mounting brackets. No separate horizontal supports are needed. The crusher can be mounted in multiple ways to ensure an easy fit onto an existing or a new steel structure.

For a quick, easy and safe setting adjustment, it is possible to select either a mechanical or hydraulic setting adjustment system. For jaw dies, several cavity options are available. Depending on the customer's preference, it is possible to use either single- or two-piece jaw dies.

Safety is the highest priority for Metso when designing a new crusher. The C120 features optional robust composite flywheel guards that allow quick and safe access to all service points. The standard delivery includes lifting tools for jaw dies, cheek plates and toggle plate, contributing to operational safety when changing wear parts.

The Metso C120's nominal power is 160 kW (200 HP), operating speed 230 rpm, closed side setting between 70 – 200 mm (2 3/4'' – 8''). The operational weight is 26,000 kg (57,200 lbs), excluding options.