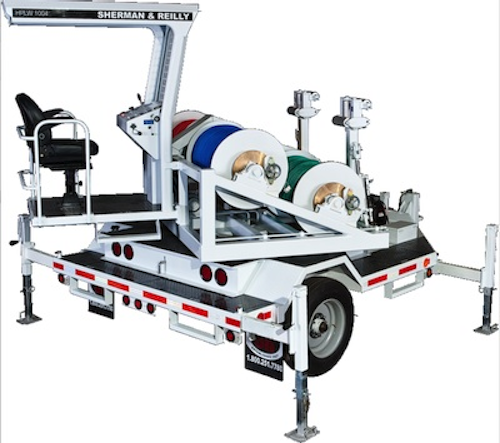 Chattanooga, Tenn.—Sherman & Reilly's HPLW-1004 (4-Drum Pilot Line Winder/Puller) is compact, hydraulic powered and now available with an operator cab. The deck rotates 360 degrees, locking every 15 degrees. There is a minimum of 1,000 lbs. line pull on top of each drum and aluminum-bronze disc payout brake on each drum.

The 4-Drum Pilot Line Winder/Puller is for "framing the poles" and re-hauling the pilot ropes connected to the mail bull rope. It's also very useful for small distribution class conductors under controlled conditions. Rope comes in four different colors for ease of identification during stringing operations.

Among other features: wireless controls with dead man switch and secondary controls mounted on unit, four independent drop and pin outriggers, and two independent hydraulic controlled levelwinds.