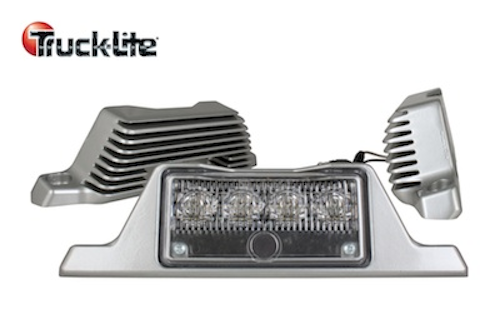 Falconer, N.Y.— Truck-Lite has developed an LED Perimeter lamp application that provides enhanced exterior visibility to either side or rear door lift gate areas of the trailer where conventional dome lamps won't reach. This new product innovation uses crisp, white light LED technology to illuminate loading and unloading areas while increasing operator safety.

Dome lamps may exude some incidental exterior light at the rear and/or side of a traditional trailer or box truck. However, when mounted at an ideal height, Truck-Lite's LED Perimeter lamp directs about 20 square feet of illumination to areas that do not receive direct lighting. The successful light projection is attributed to innovative mounting and optical design.

"The introduction of our LED Perimeter lamp application is significant to the trailer and body markets, filling a void for added lighting and safety to the lift gate area." stated Jon Stineman, Truck-Lite National Sales Director. "The trucking industry is not a 9am-5pm business, but often requires critical deliveries at all hours throughout the day. This 24-hour business requires safe work environments for the fleets making deliveries. The LED perimeter lamp is an ideal solution to increase light and provide a safer work environment."

Truck-Lite has engineered the new LED Perimeter lamp to be a robust, bright solution for the exterior application. Utilizing merely 4 diodes, the product offers 365 lumens of light output. Constructed of a heavy-duty, corrosion- resistant die-cast aluminum housing, the low profile lamp's design protrudes only 2.5 inches from the vehicle surface. The lens is manufactured of impact resistant polycarbonate and rear fins keep heat away from the LEDs and lamp circuitry, allowing for increased light output and lamp longevity.