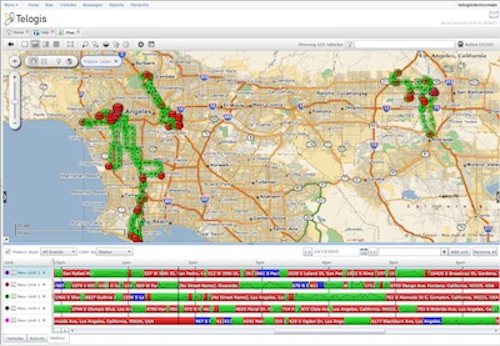 Aliso Viejo, Calif.—Telogis has introduced Telogis Fleet 9, reliable and scalable fleet management software. Telogis' Software-as-a-Service (SaaS) fleet management system drives rapid return on investment for fleets of all sizes through improved productivity and operational streamlining. Telogis Fleet 9 provides businesses with new configurable reporting and alerting options designed to allow the fleet manager to tailor the system to their specific needs, as well as advanced asset utilization and security capabilities that ensure the productivity and protection of high-value assets.

These new elements build on a platform that already offers a wide range of tools to better manage a company's mobile assets, including real-time traffic and weather, fuel card management, advanced compliance reporting, extensive vehicle histories and personnel management functions. Telogis Fleet 9 supports a variety of vehicle and equipment types, and integrates seamlessly with Telogis Route, Telogis Progression and Telogis Mobile to provide strategic and dynamic routing, real-time work order management, telematics and mobile integration on a single platform.

"The next generation of Telogis Fleet is designed to give the user a completely unique fleet management experience that best aligns with their business needs," said Sean McCormick, product manager, Telogis. "Other applications on the market provide more rigid reporting and alerting mechanisms that leave the organization confined to the functions that the system offers. With Telogis Fleet 9, we are putting that power into the user's hands by providing tools that allow easy and fast customization, and offer visually relevant information and data."

Telogis Fleet 9 features new configurable reporting functions and settings designed to tailor the system to each unique business model. Key new capabilities include:

• Ad Hoc Reporting—Telematics systems gather data that is not always relevant to every organization. Telogis Fleet 9 and Ad Hoc Reporting allow the user to define the data elements that they want to see and to organize them in a way that is the most logical way for their operation. Backed by the massive computing power of the Telogis Cloud, Telogis Fleet 9 is able to create and run these reports in real time.

• Terminology Module—Every organization has its own jargon and terminology. Telogis Fleet 9 lets the user go into the system and rename key terms to match internal nomenclature ("driver" becomes "field technician," "Van 1" becomes "Regional Route 1," etc.).

• InSight Alerting Engine—The new Telogis Fleet 9 InSight alerting engine allows the user to create unique alerts based on almost every piece of data that the system collects. For instance, when a vehicle's windshield wipers are turned on, an alert can be sent to the fleet manager that it is currently raining at the vehicle's location.

• Layers—Layers allows organizations to quickly and easily integrate unique GIS layer data into Telogis Fleet. This means that users can easily locate relevant locations in their company infrastructure that do not appear on standard maps, such as power poles, oil wells, gas and water lines, land use grids, and forestry and parcel data.

Telogis Fleet 9 also benefits from the new advanced features of Telogis Asset, including asset-specific alerts and reporting functions that provide greater visibility as to how each asset is being used in the field. Users have the ability to view all assets in a single view, customize data by asset type and integrate that information into larger fleet-wide reports — an especially important feature in large, mixed fleets (trucks, heavy equipment, trailers, site equipment). Advanced loss prevention and utilization monitoring tools also protect assets from theft and misuse.

"Telogis' asset solution not only ensures the security of your high-value assets, it also helps eliminate replacement costs, damages, and higher insurance premiums," said Jeffrey Cohen, vice president, Asset & Security Solutions, Telogis. "It also allows companies to maximize asset utilization and optimally deploy resources based on real-time information that shows how vehicles, equipment and tools are being used in the field."

For more information on Telogis and other fleet management software, click here to go to Utility Products' Buyers Guide.