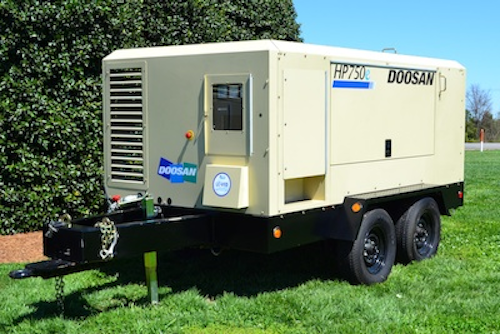 Statesville, N.C.—The durability, reliability and technology offered by Doosan Portable Power continues in a new generation of air compressors with the introduction of the new electric-driven, 750 cfm HP750e portable air compressor.

End users of the HP750 compressor can now choose an optional clean, quiet, three-phase electric motor instead of a diesel engine. In the electric model, both power and cooling systems are controlled by a liquid cooled, variable frequency drive system that provides unlimited control and exceptional efficiency.

The HP750e is 100 percent emissions-free and ultra-quiet, making it ideal for applications that have grid power available or are already utilizing a portable generator. Because the compressor is electric-powered and creates zero emissions, the HP750e is not subject to the EPA emissions regulations or Transport Canada fuel tank regulations.

All major service points on the HP750e are easily accessible, meaning less time spent on maintenance of coolers, filters and fluids. By using the electric powered HP750e, service time and costs are less than would be spent on a traditional diesel powered compressor. The inconvenience of purchasing, storing, and transporting potentially hazardous diesel fuel has also been eliminated.

An intuitive full-color digital display puts the operator in complete control of the HP750e. Doosan Portable Power utilizes an exclusive, easy-to-use interface that can also be remotely monitored via a wireless connection and a smart phone, tablet or personal computer. The optional, customizable, full-gauge package features a dual-colored, LED backlighting system that provides operator visibility under any operating conditions.

Technologically advanced, innovative and eco-friendly, the HP750e is packaged in the same rugged and reliable enclosure that has made Doosan Portable Power air compressors a primary choice for contractors and rental companies for years. The heavy-duty tandem-axle running gear on the portable HP750e is built with an exclusive extended-life slipper spring system that protects the unit during highway towing.

The HP750e also offers a multitude of factory-installed options to customize the compressor to match the needed application. The IQ System aftercooler can be installed along with particulate and coalescing filters. This patented condensate disposal system allows for clean, drip-free moisture control.

Optional dual-pressure regulation is also available with rated operating pressures of 100/150 psi. If multiple air outlets are required, additions can include up to one 2-inch and three 1.25-inch valves.