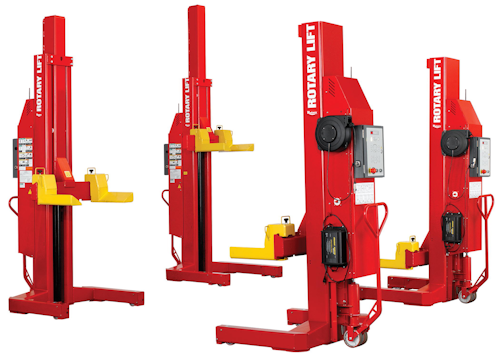 Vehicle lifts: See for yourself how easy it is to work on a vehicle using Rotary Lift Mach series mobile column lifts. Stop by the Rotary Lift booth (#531) at the APWA 2014 International Public Works Congress & Exposition for a demo of a Mach series lift raising a Vactor® HHX Prodigy® vacuum excavator to a comfortable working height. The event takes place Aug. 17-20 at the Metro Toronto Convention Centre in Toronto.

"Rotary Lift Mach series mobile column lifts provide unobstructed access to the underside of the vehicle to allow technicians to work while standing," says Doug Spiller, heavy-duty product manager for Rotary Lift. "This enables them to access frame-mounted components more comfortably and complete jobs more efficiently. At Rotary Lift's APWA Expo booth, attendees will be able to see firsthand how much easier it is to work on a vehicle while standing instead of crouching or lying on a creeper."

Rotary Lift Mach series mobile column lifts are available with capacities of 13,000 lbs. or 18,000 lbs. per column. They can be ordered in sets of two, four, six or eight columns, so customers can buy the right amount of capacity for the vehicles they service.

Rotary Lift Mach series lifts feature fast rise and descent times, so users spend less time waiting for the lift to get the vehicle in the air. Patented, intuitive controls are located on each column, so the technician can operate the lift from whichever corner of the vehicle is most convenient. Automatic steering systems that raise and lower without the need for pumping further reduce setup time. Mach lifts are available with a quick-connect horseshoe wiring or wireless.

Since they do not need to be installed in the ground, Mach series mobile column lifts can be seamlessly added to any shop and put into immediate use. For easy maintenance, the lifts feature inverted hydraulic cylinders that keep the chrome piston rod shielded from debris and damage.

For more information about Rotary Lift or other products, click here to go to Utility Products' Buyers Guide.