Vehicle lifts: Heavy-duty inground lift from Rotary Controls
Lift inspection: Rotary Lift MOD35 modular heavy-duty inground lift offers higher capacity, exclusive pendant controls and lower installation costs.
Aug 1st, 2014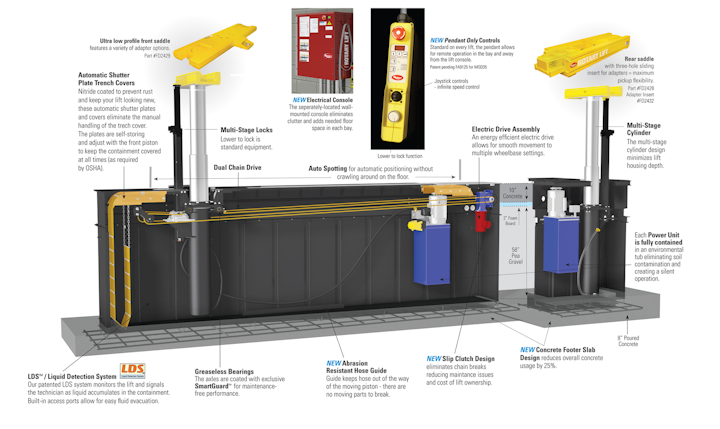 Fleet maintenance: Rotary Lift introduces a modular, environmentally friendly, heavy-duty inground lift: the MOD35 Series. The MOD35 offers best-in-class lifting capacity and clear bay space, patent-pending pendant controls and lower installation costs. The MOD35 builds on the success of Rotary Lift's MOD30 inground lift. More than 1,100 MOD30 lifts have been installed since the product's introduction in 2002.

"Rotary Lift invented the modular inground lift, and now we've made it even better," says Kirk Dawson, vice president, heavy duty, for Rotary Lift parent company Vehicle Service Group (VSG). "Through our continuous improvement efforts, the MOD35 includes all the features customers love about MOD30, plus enhancements they have requested. The result is a lift that is incredibly durable, cost-effective, user-friendly, and fast to set up for servicing any heavy-duty vehicle, from work trucks to articulated buses and everything in between."

The modular design of the MOD35 inground lift enables it to be customized for any application and location. It is available with two or three multi-stage hydraulic cylinders to provide lifting capacity of 70,000 to 105,000 lbs.

Rotary Lift has put the power of the MOD35 directly in the hands of technicians with a patent-pending new pendant-only control. This custom remote control comes standard with every MOD35 inground lift instead of a floor console. The pendant makes it easy for technicians to operate the lift from anywhere in the bay, for more efficient spotting and lifting. The pendant's joystick controls provide infinite variable speed control for positioning, raising and lowering the lift, as well as fine adjustment. A lower-to-lock button provides peace of mind. Rotary Lift's exclusive pendant has been Class 1 Division 2 certified for use all the way down to the ground without worry. An optional cord reel will also be available.

By moving all of the MOD35's control and communication functions to the pendant, Rotary Lift was able to shrink the standard electrical console to the point that it can be removed from the bay and mounted on a wall up to 100 feet away from the lift. As a result, facilities gain about five square feet of additional floor space, providing technicians with more room to work around the vehicle.

To protect both the environment and the lift, the MOD35 is totally contained in a six-foot-deep steel enclosure that has been sealed inside and out with Rotary Lift's exclusive EnviroGuard coating. The enclosure is warranted against corrosion and electrolysis for 10 years. This containment forms a barrier between the lift components and the ground to trap oil and shop fluids while at the same time locking out groundwater. The MOD35 containment unit also allows for easy access to all lift components and reduces installation costs.

Rotary Lift has developed a patent-pending new installation method for the MOD35 that requires up to 25 percent less concrete. This means that the MOD35 can be installed more quickly and at a lower cost.

Other features of the MOD35 environmentally friendly inground lift include:
• New slip clutch chain drive design: The simple, low-cost chain drive has been improved to allow accidental vehicle impacts.
• New abrasion-resistant hose guide: Keeps the hydraulic hose out of the way of the moving piston.
• New control features: Store up to 25 vehicle profiles, including wheelbase and height settings, to reduce set-up time and improve technician productivity.
• VEC Equalization and Control System: Eliminates the need to manually adjust valves and allows technicians to control jacks individually for vehicle spotting and simultaneously for lifting.
• Clear floor design: All housings are recessed to provide "zero clearance" drive-through when the lift is in the down position.

The MOD35 is compatible with Rotary Lift's patented universal saddle that is optimized for most vehicles in municipal, school bus, heavy truck or transit/low-profile applications. The widest range of standard adapters and optional saddles are also available to meet any heavy-duty vehicle lifting need.

For more information about Rotary Controls or other products, click here to go to Utility Products' Buyers Guide.