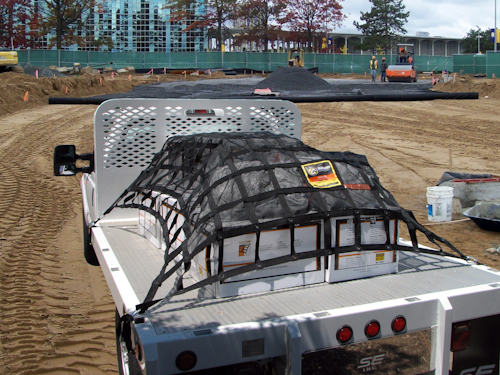 Commercial vehicles: Gladiator Cargo Nets are widely used by commercial fleets, government and everyday haulers where safety is a priority. With its patented combination of webbing and heavy-duty mesh fabric, the Gladiator Cargo Net is cited to outperform other cargo nets on the market.
Rugged, yet flexible, with 60 to 180 grommet's to anchor the net to your vehicle. It comes in sizes to fit any vehicle from an ATV to 18-foot truck or trailer bed. Every line of cargo nets is independently tested to secure loads. All components are stamped with their individual tested rating. Testing reports are engineer certified and stamped with the state seal of California.
For more information about Gladiator Cargo Nets or other products, click here to go to Utility Products' Buyers Guide.