Lift inspection: Car lift technology is fast
Fleet maintenance: Rotary Lift's Shockwave improves productivity by cutting lift rise times in half.

Aug 5th, 2014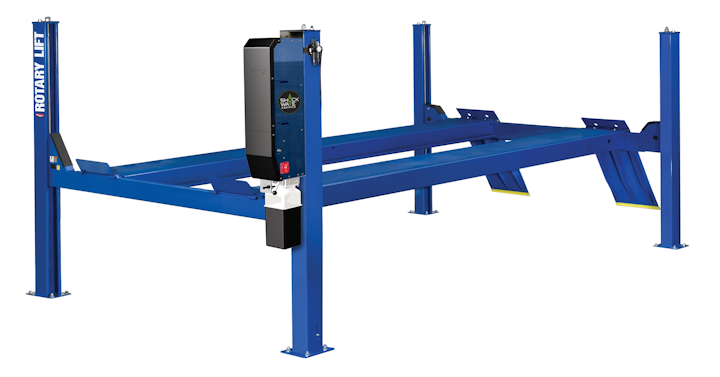 Vehicle maintenance: Rotary Lift is expanding its Shockwave-equipped line of vehicle lifts to include four-post models, providing substantial time savings and improved productivity for quick service technicians. The company's patent-pending Shockwave technology, which already drives the world's fastest two-post and inground lifts, is now available on 14,000 lb. capacity SM series and AR series four-post lifts.

"Four-post lifts are popular for quick service applications like oil changes, inspections and alignments because users can quickly drive a vehicle onto the runways and get it into the air," says David Fischmer, marketing manager for Rotary Lift parent company Vehicle Service Group (VSG). "With Shockwave, the setup process will be even faster. The Shockwave-equipped four-post lifts feature rise times that are twice as fast as traditional four-post lifts, so there is less time spent standing around waiting for the lift to go up."

Rotary Lift's versatile 14,000 lb. capacity SM and AR series four-post lifts can handle cars, vans and light trucks through Class 3. With Shockwave, the lifts can reach full lifting height in just 35 seconds. Descent takes only 18 seconds, meaning a Shockwave-equipped four-post lift can be raised and lowered in less than the time it would take a standard four-post lift just to raise a vehicle. This allows technicians to complete more jobs each day, which puts more money in their pockets and increases shop profitability.

Shockwave's speed is made possible in part by its DC power unit. The batteries are kept charged by an onboard charger, so the lifts will work even if the shop¹s electricity goes out. Since the charger runs on a standard 110V power connection, there is no need to install expensive 220V wiring for the lift. On Rotary Lift¹s 14,000 lb. capacity four-post lifts, the Shockwave power unit can be mounted to either the front or side of one of the columns to meet the space needs of any work bay.

Each Shockwave-equipped four-post lift comes with a patent-pending Spotline laser spotting guide. The motion-activated, wall-mounted laser projects a green line into the middle of they bay, making it easy to center a vehicle on the lift¹s runways. The technician simply aligns the middle of the hood or dash with the laser line and drives onto the lift.

Shockwave is available on three 14,000 lb. capacity four-post models: standard (SM14), open front (SMO14) and alignment (ARO14). With the open front option, the runways are not connected between the two front posts, providing an unobstructed work area that runs the entire length of the vehicle. For alignment work, the ARO14 alignment lift comes with two stainless steel radius gauges, two 7,000 lb. capacity rolling jacks and rear slip plates. It is compatible with any brand of alignment equipment. Each model is available with several runway lengths to fit varying bay and vehicle size requirements.

Rotary Lift's 14,000 lb. capacity four-post lifts feature air filter/regulator/lubricator units to keep air-powered tools working properly. The hydraulic lifting cylinder on each is located under one of the runways, so there are no overhead obstructions that could damage vehicle doors or mirrors.

For more information about Rotary Lift or other products, click here to go to Utility Products Buyers Guide.