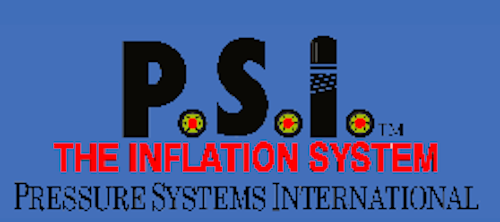 Vehicle maintenance: Throughout 2013, Pressure Systems International (P.S.I.) celebrated its 20th anniversary of providing automatic tire inflation systems for commercial vehicles by honoring twelve fleets, three for each five year interval from 1993 through the present, that have played a major role in the success of the company. On December 3, Frank Sonzala and Mike Niemeyer presented the twelfth and final 20th Anniversary Year Fleet of the Month award to Swift Transportation during the CCJ Fall Symposium held in Scottsdale, AZ. Each of the fleets honored in the second half of 2013 were instrumental in growing P.S.I.'s penetration into the N.A. fleet market. They are:

Years 2003-2008
• July - Old Dominion Freight Lines was recognized as being one of the first large for-hire carriers that made the Meritor Tire Inflation System (MTIS) by P.S.I. standard on their trailers. This was a huge milestone that led to MTIS now being specified by 70% of the Top 200 fleets (for-hire and private) in the U.S.
• August - Dean Foods, a multiple-brand high profile private carrier, began spec'ing P.S.I.'s automatic tire inflation system in 2000 giving the company exposure to the private fleet sector.
• September - FedEx Ground and Freight, the nation's second largest carrier, went standard with P.S.I. in both divisions. Their reputation for quantifying value of their trailer specifications convinced the industry that the R.O.I. for this product fell within an acceptable time frame and convinced other fleets to follow their lead.

Years 2008-2013
• October - Werner Enterprises, who not only began spec'ing the P.S.I. system on all new trailers, also embarked on a 24,000 trailer retrofit program for their in-service trailers.
• November - J.B. Hunt chooses MTIS by P.S.I. as their specification for all new trailer orders
• December - Swift Transportation honored for being the latest large for-hire carrier spec'ing MTIS by P.S.I. for their trailers.

Today, Pressure Systems International is the world leader in automatic tire inflation systems. In North America MTIS by PSI has the greatest share of fleets that use automatic tire inflation systems with approximately 36% of all new trailers being equipped with the system. Frank Sonzala, Executive Vice President commented "We honored twelve fleets during our 20th anniversary year, but really there are so many who have contributed to our success that it would take the next twenty years to recognize them all. 2013 was a record year for us and we appreciate the support of each and every one of our customers in helping us attain that mark."

About Pressure Systems International
Pressure Systems International is the world leader in automatic tire inflation systems and markets and sells its products in North America through Meritor as the Meritor Tire Inflation System by PSI. PSI has also opened markets in 40 countries and is currently exporting to China, Europe, South America, Africa and Australia.
For more information about Pressure Systems International or other products, click here to go to Utility Products' Buyers Guide.