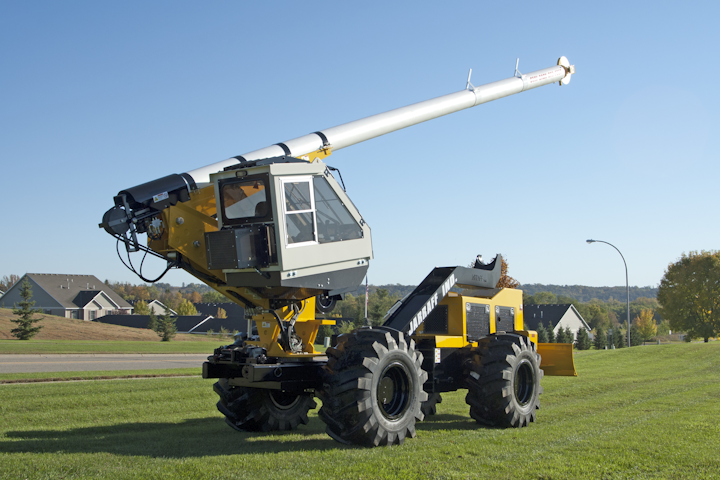 For more than 30 years Jarraff Industries has provided the means for tree service companies to safely and efficiently clear and maintain utility right-of-ways. With features that maximize production and enhance operator safety, the Jarraff All-Terrain Tree Trimmer is cited to be the most effective machine for clearing and trimming trees and encroaching limbs.
In either wheeled or track configurations, the Jarraff is self-contained and requires no set up time. This allows smaller crews to do more in less time. And, since workers never leave the ground, the Jarraff adds safety to every job.

The Jarraff All-Terrain Tree Trimmer provides right-of-way maintenance contractors a 360-degree range of motion, 40-degree lateral tilt and 75-foot cutting height. Two four-way joysticks and fingertip controls offer optimal precision.

In addition, the Jarraff's cab is completely ROPS, FOPS and OPS certified. Full panel, tinted lexan windows prevent distortion and provide a clear view of operations. The cab also comes with a heating and air conditioning option. The Jarraff adds safety to every job because workers never leave the ground.

Jarraff All-Terrain Tree Trimmer comes with several engine options including a Tier III Cummins liquid cooled, 130 hp (97 KW), electronic controlled engine. The increased horsepower improves the unit's grade climbing abilities and current emissions rating. A Tier II engine option 97 hp (72 KW) Deutz diesel is available in wheeled and track configurations as well.
For more information about Jarraff or other products, click here to go to Utility Products' Buyers Guide.