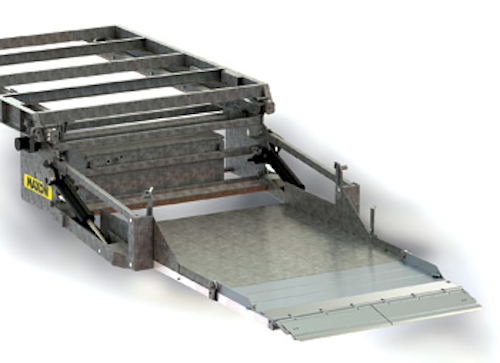 Maxon Lift Corp. has developed a fully galvanized new trailer side door liftgate, the RA Slidelift Series. The purpose-built design encompasses wide arm configurations for greatest stability and maximum trailer side rail clearance capabilities.
The new level ride RA liftgate comes standard in 3,500-lb. and 4,500-lb. lifting capacities. The design makes use of the full trailer width, resulting in large 48-in., 60-in. and 82-in. wide platforms with depths of 55 in. and 79 in.
The RA features two hydraulic lifting cylinders with bi-directional lock valves and comes completely assembled and prefilled with hydraulic oil. Additional features include greaseable pins and bushings at all pivot points. Most importantly, for high corrosion resistance, the RA features a full galvanized finish that is standard for this gate-no additional charges or lead times.
For more information about Maxon Lift or other products, click here to go to Utility Products' Buyers Guide.