Utility equipment: Swing arm option aerial devices
Utility vehicles: Terex introduces Swing Arm option for Hi-Ranger TL Series aerial devices.
Sep 3rd, 2014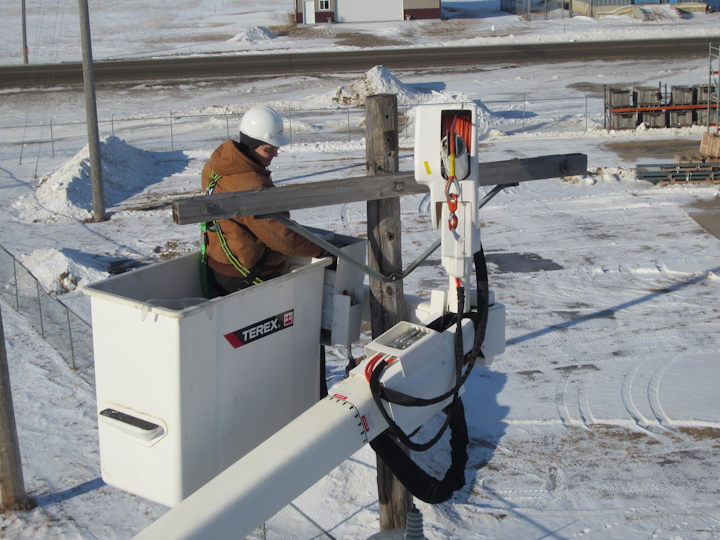 Construction equipment: The Terex® Hi-Ranger™ Swing Arm option is a new option to increase the platform's range of motion for the company's popular TL series aerial devices. The Swing Arm option incorporates the popular Terex articulating, telescopic boom design with an additional platform arm that can rotate 215 degrees, in addition to the 180-degree platform rotator. This feature makes it possible for operators to reach both sides of the utility pole without having to reposition the truck, thus expanding the truck's work area and increasing access from a one truck set-up.

A platform lifter feature on the Swing Arm option enables operators to raise and lower the platform an additional 20 in of working height. By being able to rotate the jib plus rotate the platform, the Terex Swing Arm can wrap around the utility pole, allowing the operator to extend their reach and do all the jobs at the top of the pole from a one truck set-up. This feature enables operators to reach around the utility pole to complete a task, like changing out transformers, by simply swinging the bucket around and continuing to work the back side of the pole.
Achieving a working height of 56.8 ft, Terex TL aerial trucks boast -40 to 76 degrees of upper boom travel, 42.3 ft of horizontal (side) reach and 0 to 87 degrees of lower boom travel. These units also have a 51.2 ft bottom of platform height and can achieve a maximum jib capacity of 1,080 lb.
The Terex TL series of utility trucks are engineered to let operators access the platform from the ground, to load tools and equipment, and comes standard with a 485-lb capacity, end-mounted, two-person operator's platform.
Other features incorporated into the design of the Terex TL series with Swing Arm option are a hydraulic generator with battery backup that allows electric power to the radio-controlled upper boom controls. Also, these trucks have a hydraulic platform leveling system, full-pressure, open-center hydraulic system, dual hydraulic tool outlets with flow control and continuous unrestricted worm gear rotation. The Terex TL series aerial devices have a Category "B" rating per ANSI A92.2.
For more information about Terex or other products, click here to go to Utility Products' Buyers Guide.