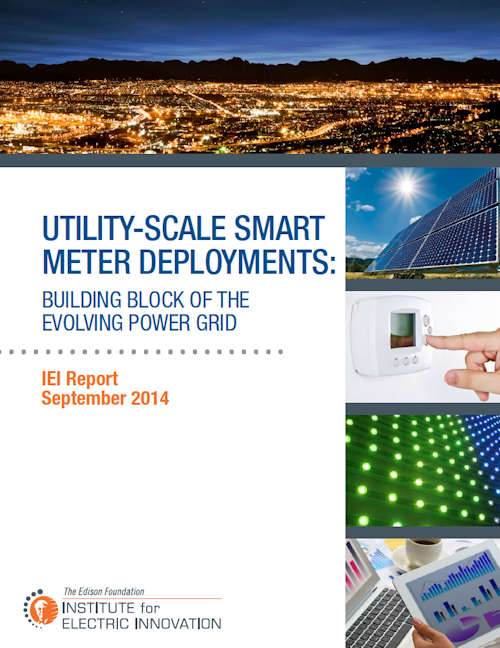 Electrical measurement: The Edison Foundation Institute for Electric Innovation (IEI) has released a new report, "Utility-Scale Smart Meter Deployments: Building Block of the Evolving Grid," that examines the growth of smart meters across the country and the many benefits smart meters are providing to electricity customers.
"Smart meters are playing a critical role in shaping the future of the electric grid and enabling the integration of new technologies and innovations across the grid. The growing deployment of smart meters is helping utilities improve reliability while also enabling customers to be more energy efficient and allowing the connection of more renewable resources to the grid," said Edison Foundation Vice President and Institute for Electric Innovation Executive Director Lisa Wood. "Investment in digital technologies provides utilities an opportunity to educate, learn from, and connect with customers. Those technologies let the customers communicate with their utilities in new ways."
Since July 2013, U.S. electric utilities have installed more than 4 million smart meters, bringing the total number of smart meters to more than 50 million as of July 2014. Today, more than 43 percent of U.S. households have smart meters, up from about 33 percent of households in May 2012.
The report highlights how utilities and customers are leveraging the benefits of smart meters, including:
• New services for customers, such as automated budget assistance and bill management tools, energy use notifications, and "smart pricing" and demand response programs.
• Smart meter integration with outage management systems and distribution management systems that provide enhanced outage restoration and improved distribution system performance.
• Positioning the grid as a platform for the integration of distributed generation, community solar, electric vehicles, electricity storage, and microgrids.
• Operational savings from improved deployment of utility restoration crews, automated meter readings, and reduced energy theft.
The Institute for Electric Innovation focuses on advancing the adoption and application of new technologies that will strengthen and transform the power grid. The Institute's members are the investor-owned electric utilities that represent about 70 percent of the U.S. electric power industry. The membership is committed to an affordable, reliable, secure, and clean energy future.
For more information about IEI or other products, click here to go to Utility Products' Buyers Guide.