Construction equipment: Digger derricks, aerial devices, auger drills
Utility line construction: Terex Utilities hosts 36th Annual Hands On Training Event in Watertown, S.D.
Sep 24th, 2014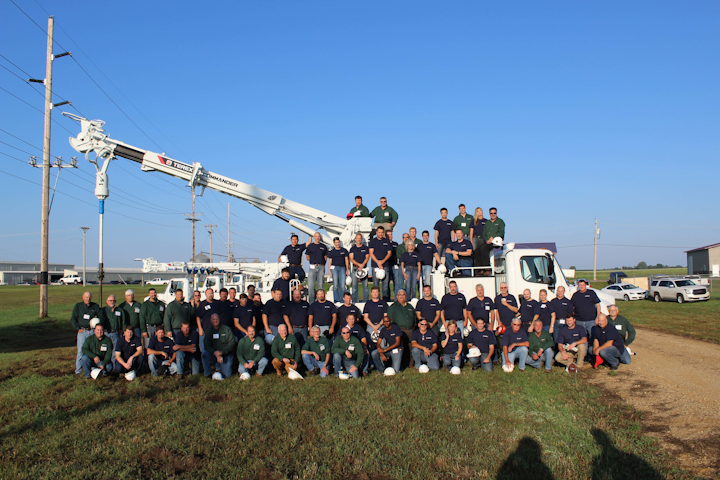 Overhead and underground: More than 40 people from around the world, including participants from Australia, Brazil, Chile, China and the United States, recently attended Terex Utilities' 36th annual Hands On Training seminar at the company's facilities in Watertown, S.D. on August 18-20. Participants of this year's 3-day Hands on Training event gained valuable training on the proper operation and application of Terex® digger derricks, aerial devices and auger drills.
The 2014 Hands on Training event gave attendees, both customers as well as distributor personnel, the opportunity to rotate through six different training stations at Terex Utilities' outdoor facility. At each station, participants operated the equipment and performed actual jobs under direct supervision of Terex trainers. Whether an attendee's job is behind a desk or working around energized power lines, all of this year's Hands On Training participants learned the most effective ways complete various jobsite tasks, as well as gained an understanding of best practices, work methods and safety procedures.
In addition, the trainers demonstrated other operations and procedures not covered in the six stations, including pole removal techniques, multi-parting winch line lifting and proper equipment set-up. Work concepts, such as the company's Work Zone Capacity standard for spec'ing digger derricks, as well as new products including the Terex Interchangeable Head Augers, were also integrated into this year's event.
Tentative dates for the 2015 Hands On Training and NCCCO training are August 17-19. More information will be available in the future at http://www.terex.com/utilities/en/service-support/training/index.
In addition to these in-person training events, customers can request customized training at their own facilities or take advantage of The Edge, Terex Utilities' online training university.
For more information about Terex or other products, click here to go to Utility Products' Buyers Guide.