Utility trucks capable of shortening or eliminating electric outages
Utility work trucks: PG&E joins with EDI to unveil utility trucks capable of shortening or eliminating electric outages. Plug-in electric hybrid utility trucks capable of providing power to homes and businesses during outages.
Sep 19th, 2014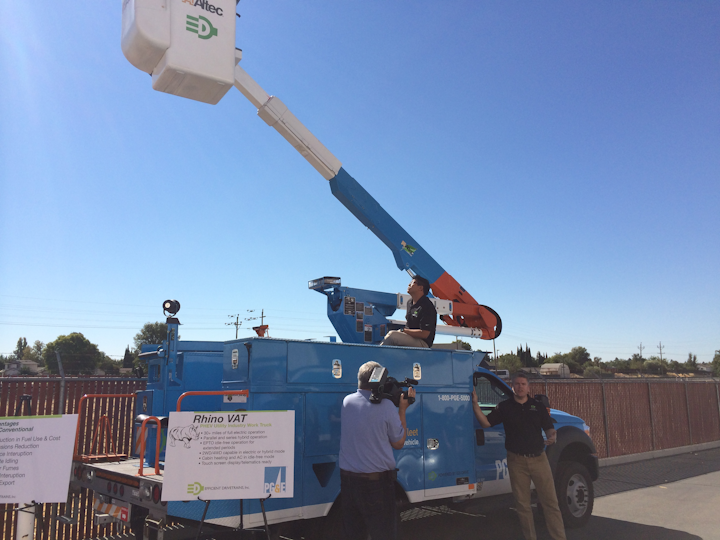 Utility vehicles: Pacific Gas and Electric Company and Efficient Drivetrains Incorporated (EDI) have unveiled two new utility trucks, including the industry's first electric hybrid drivetrain Class 5 truck featuring 120 kilowatts of exportable power that can be used to shorten or eliminate electrical outages, at an event at the manufacturer's facility in Dixon.
The utility trucks, developed by EDI in partnership with PG&E, were designed, built and tested in the heart of California at EDI's manufacturing plant in Dixon. The vehicles feature the "EDI Drive" plug-in electric hybrid (PHEV) system, which provides up to 30 miles of all-electric range and an additional 300 miles of range in PHEV mode and an 80% reduction in emissions when compared to conventional trucks. In addition, these vehicles are the industry's first to also offer both parallel and series hybrid modes, allowing the vehicle to maximize fuel efficiency in both highway and in-city driving conditions.
In addition to the fuel savings offered by a PHEV, the class 5 utility work truck model also offers up to 120kw of exportable power, which can be used to shorten or eliminate planned and unplanned outages. To put this technology in perspective, nearly 80% of the transformers in PG&E's service area are 120kW or less, meaning that the vehicle's exportable power capacity is "right-sized" for PG&E's needs.
"These vehicles were custom designed to meet PG&E's goals of both electrifying its utility fleet and to utilize that on-board generating capability to fundamentally change how the utility manages electric outages," said Joerg Ferchau, chief executive officer for EDI. "PG&E had an extremely ambitious vision for a new vehicle, and Efficient Drivetrains Inc (EDI) was able to offer a solution that met their goals."
PG&E and EDI also unveiled a Class 5 PHEV bucket truck that they partnered on with Altec Industries, featuring a customized version of Altec's Jobsite Energy Management System (JEMS). This technology allows crews to operate all onboard vehicle equipment, including the boom, climate control, lights and other auxiliary systems off of the onboard batteries, eliminating the need to idle the trucks while at jobsites. PG&E has been utilizing this technology on its Class 5 and Class 8 bucket trucks for nearly 5 years, and last year saved nearly $750,000 in fuel costs when compared to conventional bucket trucks.
"These cutting-edge trucks not only will help us reduce our fuel costs as well as our carbon footprint, but in the event of an outage, we would be able use their exportable power capacity to supply electricity to homes and businesses," said Dave Meisel, senior director of transportation and aviation services for PG&E. "In addition, being able partner with two companies with manufacturing plants in the heart of our service territory will also help us meet our goal of creating economic vitality in the communities we are privileged to serve."
EDI, a California-based clean technology success story, was founded in 2006 and began operation in 2007 with a small government loan from the State of California. Since that time, they've grown into a multi-million dollar company, commercializing hybrid and electric drivetrain solutions, continuously variable transmissions, and drivetrain software for automotive manufacturers worldwide. In addition to their US presence, EDI exports electric vehicles to China, and attracts foreign investment from China to support local jobs. EDI has operations in Dixon, California and worldwide headquarters in the Silicon Valley.

PG&E currently operates 942 Class 5 vehicles, including bucket trucks, flat beds, and other service trucks. If the utility were to replace all of those vehicles with EDI's plug-in electric hybrid models, the utility would save nearly $3.5 million in fuel costs and reduce GHG emissions by over 9,000 metric tons annually. PG&E operates the greenest utility fleet in the industry, with nearly 3,500 alternative fuel vehicles, including approximately 1,000 electric and electric hybrid units.
About EDI
Efficient Drivetrains, Inc. (EDI) develops and markets state-of-the-art proprietary drivetrain products and technologies that have application in PHEVs, HEVs, and BEVs worldwide. EDI's leading plug in electric drivetrain systems and technologies provide significant cost and efficiency advantages for both electric and hybrid drivetrain architectures across nearly all platform classes and configurations. EDI is active in automotive projects in North America and the APAC region.
About PG&E
Pacific Gas and Electric Company, a subsidiary of PG&E Corporation (NYSE:PCG), and the PG&E Corporation Foundation strive to power strong communities throughout Northern and Central California. In 2013, PG&E contributed more than $23 million to more than 1,300 charitable organizations, including matching the generosity of employees who donated more than $6.5 million and volunteered more than 48,000 hours to company-supported events. Community investments are funded entirely by the company's shareholders.
For more information about PG&E, EDI or other products, click here to go to Utility Products' Buyers Guide.