Lift inspection: Heavy-duty four-post lifts are fast
Fleet maintenance: Rotary Lift introduces new heavy-duty four-post vehicle lifts that are both user friendly and fast.
Jun 13th, 2014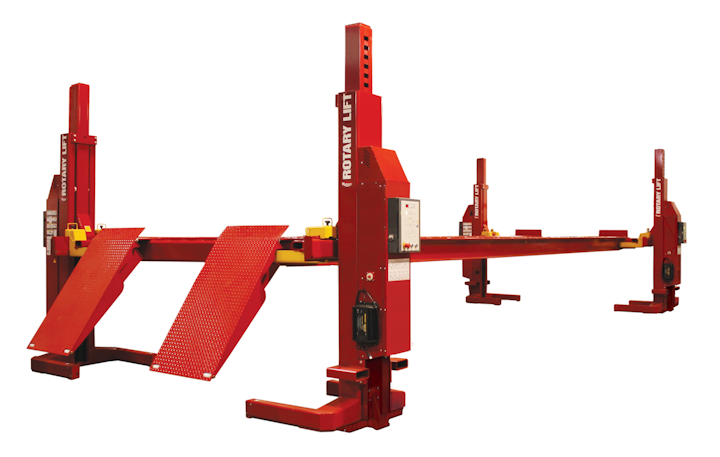 Truck maintenance: Rotary Lift introduces new heavy-duty four-post vehicle lifts that are both user friendly and fast. The new HDC series four-post lifts are available with capacities of 50,000 lbs. (P/N HDC50) and 60,000 lbs. (P/N HDC60) for servicing a variety of heavy-duty vehicles including trucks and buses. The battery-powered lifts are easy to operate, economical to maintain and can raise a vehicle faster than any competing four-post lift.

"Rotary Lift's Shockwave-equipped light-duty lifts and Mach series mobile column lifts are popular with technicians and maintenance managers because they are built to increase productivity," says Doug Spiller, heavy-duty product manager for Rotary Lift. "The new HDC series lifts incorporate the productivity features found on these lifts in an anchored four-post design. This provides an efficient high-capacity option for shop operators who have a bay that can be dedicated to a four-post lift."

HDC series lifts are the first four-post lifts that can be operated from any column, allowing the user to work from the corner of the bay that is most convenient. Each post is equipped with Rotary Lift's patented control system, which features an intuitive graphic layout of the lift and real-time height reading. To maximize efficiency, the control panels can be preprogrammed to remember their locations even after the power is turned off.

In addition to its own control panel, each HDC series lift column includes a hydraulic cylinder. Since there are no cables or chains running the length of the runways and no sheaves, an HDC series lift is easier to maintain than a traditional four-post lift. To further reduce maintenance needs, the four hydraulic cylinders are inverted, so the chrome piston rods remain protected from debris and damage at all times.

HDC series lifts are anchored to the shop floor using just a few wedge-style anchors per column. The anchors require no excavation or site preparation, saving time and money during the installation process. Electrical installation is also easy, since the lifts are battery powered. Each column is fitted with its own batteries and an onboard charger, requiring only a standard 110V electrical connection for charging.

"Battery power, which is the driving force behind Rotary Lift's Shockwave and Mach series lifts, offers many benefits that are now available in a four-post model," says Spiller. "The DC-powered HDC lifts feature an industry-best rise time of just 65 seconds; they remain fully functional if the power goes out; and they use less electricity than other models."

Two runway lengths, built to handle maximum wheelbases of 28 feet or 33 feet, are available for both the HDC50 and HDC60. A low-profile runway design makes it easy to drive any vehicle onto the lifts. The HDC series lifts feature a 78-inch maximum rise to the top of the runways to provide ample working room for even the tallest technicians.

Optional accessories include 25,000 lb. capacity rolling bridge jacks that lift the vehicle off its wheels for tire, brake and suspension work, and high-efficiency LED lighting for improved visibility. A shim kit is available for uneven floors, and an HDC series lift can even be converted into a mobile column lift with a mobility kit that adds wheels to the front and back of each column.

Both models have been third-party tested and certified by the Automotive Lift Institute (ALI) to meet ANSI safety and performance standards.

About Rotary Lift
Rotary Lift is the leading brand of vehicle lifts and equipment designed to increase technician productivity. Founded in 1925 by the inventor of the first automotive hydraulic lift, Rotary Lift offers the broadest line of lifts for use in professional automotive service, commercial truck and transit, and enthusiast/residential customer segments. There are more Rotary Lift products used in vehicle repair shops around the world than any other brand.
For more information about Rotary Lift or other products, click here to go to Utility Products' Buyers Guide.