Utility vehicles: Scrub-resistant, self-sealing tires for utility fleets
Fleet maintenance: Goodyear offers total package solution for utility fleets. High-mileage, scrub-resistant and self-sealing tires and Storm Priority program help keep utility trucks up and running.
Jun 10th, 2014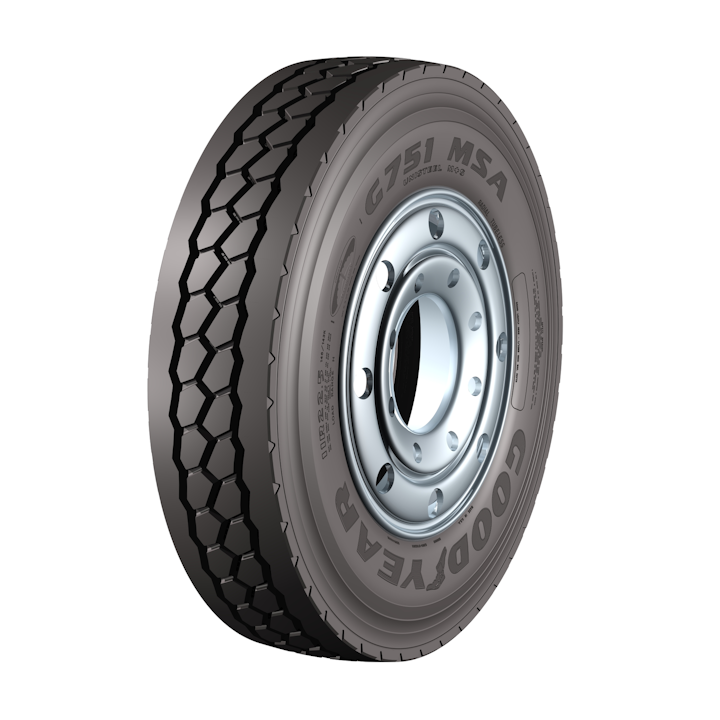 Fleet management: Self-sealing truck tires and a service designed to help keep trucks up and running during and after severe weather incidents are just two pieces of The Goodyear Tire & Rubber Company's Total Package Solution for utility fleets. During the Electric Utility Fleet Managers Conference (EUFMC) in Williamsburg, Va., Goodyear displayed its new G751 MSA mixed-service truck tire, including one size of the tire that contains Goodyear's exclusive DuraSeal Technology.
Built into the tire during the manufacturing process, Goodyear DuraSeal Technology instantly seals nail-hole punctures of up to 1/4-inch in diameter in the repairable area of a tire's tread, "which is particularly beneficial for utility trucks that roll over storm-related debris," says Norberto Flores, marketing manager, Goodyear Commercial Tire Systems.
"As utility trucks and crews spring into action during and after severe weather events, the risk of tire damage due to storm-related debris on the road increases tremendously," says Flores. "Goodyear DuraSeal Technology helps keep trucks up and running so they can reach their destinations and continue their important work."
In addition to Goodyear DuraSeal Technology, the G751 MSA, which has been designed for 80% on-road use, contains more wearable volume for extra miles to removal; a special tread compound for enhanced resistance to cuts, chips and tears; lower rolling resistance construction for improved fuel efficiency; a wider footprint for optimal traction and stability; 24/32-inch tread depth; and a sturdy, tough casing for retreading.
The G751 MSA is available in the following sizes: 11R22.5 and 315/80R22.5 (both with DuraSeal) and 12R22.5, 11R22.5, 11R24.5, 12R24.5 and 315/80R22.5 (without DuraSeal.)
Also available for utility trucks is the G661 HSA, which offers long mileage and enhanced toughness for high-scrub applications.
The G661 HSA contains a scrub-resistant tread with multi-compound construction to help extend tread life in applications that require frequent turning, backing and braking. It also features sidewall protector ribs and a scrub-resistant compound to protect against curbing and sidewall abrasions; four full-sized, super-tensile steel belts for extra toughness; a 22/32-inch tread depth to help deliver long tread life; and other features.
It is available in a wide range of popular sizes, including 11R22.5, 11R24.5, 12R22.5, 245/70R19.5, 225/70R19.5, 285/75R22.5, 295/75R22.5, 265/75R22.5 and 275/70R22.5.
As added assistance for utility fleets, Goodyear also offers its Storm Priority program. Utility truck drivers whose vehicles experience flat tires can call the dedicated Storm Priority hot line (1-855-STORMHQ) to speak with trained tire professionals at the 24/7 Goodyear-FleetHQ Solution Center.
"These professionals will capture vital information, including the location of the caller's downed truck, and will then locate and dispatch a service technician from the nearest of more than 2,200 Goodyear truck tire and service providers – including Goodyear commercial truck tire dealerships and Goodyear Commercial Tire & Service Centers – to the truck's location," says Flores. "The technician will address the truck's tire condition and help it return to service."
The Goodyear Storm Priority program is offered through the Goodyear-FleetHQ suite of business solutions. Since its inception, Goodyear-FleetHQ has put more than 750,000 trucks back on the road.
"We have the expertise and capabilities to get trucks back up and running quickly," says Flores – on average, within two hours and 11 minutes from the moment a driver notifies Goodyear-FleetHQ.
Goodyear-FleetHQ also provides a smart phone app that expedites the emergency road call process. The Goodyear Road Service App can be downloaded to iPhones from Apple's App Store and to Androids from Google's Play Store at no charge.
Other Goodyear-FleetHQ solutions include:
• Access to the industry's largest network of tire and tire service providers with more than 2,200 locations from coast to coast, including hundreds of truck stops.
• Tire Trac, an online tire management tool that monitors tire performance – collecting, documenting and presenting key data in an easy-to-access format. Tire Trac's ability to monitor and provide reports on tire performance, maintenance and other functions can help fleets drive down their operating costs.
• The Goodyear-FleetHQ Dashboard, which presents information about tire, retread and service performance, plus purchase information.
"Goodyear is dedicated to keeping utility trucks up and running," says Flores. "We also want to help utility companies manage their tire assets more effectively.
About Goodyear Commercial Tire Systems:
Goodyear Commercial Tire Systems offers The Total Package Solution of industry-leading tires, services and profitability tools to help commercial trucking fleets lower their total cost of ownership.
For more information about Goodyear or other products, click here to go to Utility Products' Buyers Guide.