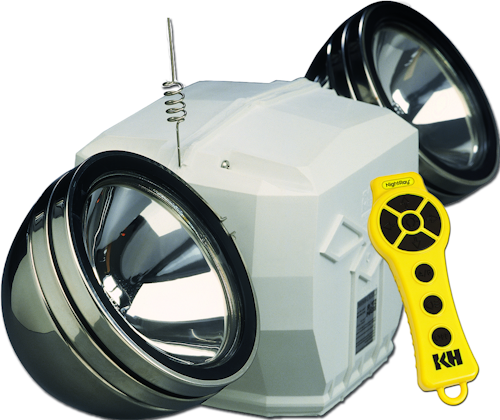 Safety lighting: KH Industries, U.S. manufacturer of vehicle-mounted remote controlled spotlights, has upgraded its StarBeam Spotlight to include the new TwinRay wireless controller. The TwinRay controller features clear, noise free communication with KH's exclusive selective signal processing technology, which eliminates false signals from other R.F. transmitters.
Features of the new StarBeam 2 Spotlight System include wireless operation from up to 100' away, ability to add a second NightRay or StarBeam spotlight to a single light system, easy in field programing.
The StarBeam features twin rotating Par 46 H3 Spotlights or 35 watt ID Xenon heads for extremely bright illumination. The motor controlled dual lamp heads rotate 330° on horizontal and vertical axis to provide precise placement of light output.

KH Industries is a state-of-the-art US manufacturer of industrial-grade portable lighting and power products for the utility, fleet, construction, aviation, chemical, petroleum, marine, and agricultural industries.
For more information about KG Industries or other products, click here to go to Utility Products' Buyers Guide.