Fleet maintenance: Tire pressure monitoring from Telit Wireless Solutions
Safety products: TireStamp chooses Telit for tire pressure monitoring system. The Telit HE910 cellular module and Jupiter JF2 positioning module enhance safety and reduce cost of fleet operations.
Jun 12th, 2014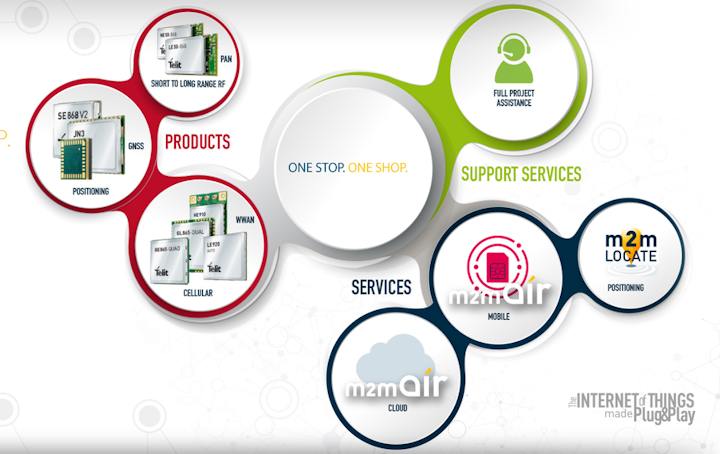 Utility vehicles: Telit Wireless Solutions, a provider of high-quality machine-to-machine (M2M) solutions, products and services, has announced TireStamp, the only TPMS 2.0-certified vendor of Tire Pressure Monitoring Systems embeds Telit cellular and positioning modules into its cutting edge solution.
Fleet managers know all too well that tires represent the second highest operating cost of running a fleet – second only to fuel. Moreover, tire maintenance can significantly impact highway safety, revenue potential, operational efficiency and maintenance costs. That's why TireStamp built a solution that communicates with many tire pressure sensors on the market to provide real-time monitoring of tire pressure and temperature across vehicle types, tire brands and location. The comprehensive tire data enables fleet managers to schedule maintenance, intervene in the event of an emergency, improve on-time delivery and enhance regulatory compliance.
The TireStamp TireVigil™ TPMS solution receives data from TMPS sensors, then communicates in real-time over the cellular network using the Telit HE910 cellular module. Part of the xE910 module family, the HE910 is pin-to-pin compatible with a suite of modules enabling TireStamp to easily customize its products to enable connectivity across cellular technologies and geographies. The Jupiter JF2 GNSS module is a super-compact, low-power device that communicates with both GPS and Glonass positioning systems and provides enhanced accuracy to help locate vehicles in the event of an emergency or at any time.
"Our customers are typically in the maintenance space," said Scott Feagan, Chairman and CEO of TireStamp. "Reliability and support are extremely important to them – and to me. Pair that with family compatibility for fast time-to-market and global expansion, the opportunity to bundle connectivity with positioning, affordable pricing and on-time availability, and it's easy to see why we chose to work with Telit."
"Between fleets and personal vehicles, more than a billion tires are sold around the world each year," said Mike Ueland, President of Telit Americas. "Telit has a long history of supporting fleet telematics and automotive solutions and we're pleased to enable the world's leading tire pressure management system."
With over 12 years of unparalleled focus on M2M, reducing technical risk and shortening time to market for OEMs and integrators, Telit's ONE STOP. ONE SHOP delivers all necessary services and products to connect assets to the Internet of Things. Whether sourcing single products or full end-to-end solutions, count on M2M's broadest portfolio in cellular, short range and positioning technologies paired with m2mAIR services covering application enablement as well as deployment management & connectivity under mobile networks and over the internet & cloud. Telit benchmark-quality products and services are delivered with global support and logistics exceeding exacting requirements from customers large and small. Telit's ONE STOP. ONE SHOP. delivers the Internet of Things made Plug & Play. Now innovate!
About Telit
Telit Wireless Solutions (AIM: TCM listed as Telit Communications PLC), is a global enabler of machine-to-machine (M2M) communications. Its ONE STOP. ONE SHOP. provides cellular, short-to-long range, positioning modules plus m2mAIR, PaaS managed and value added services in application enablement, connectivity under mobile networks and Cloud. Telit operates business unit Telit Automotive Solutions delivering automotive-grade products like the Automotive On-board Platform (ATOP) and services to auto manufacturers and tier-one auto suppliers; and business unit Telit GNSS Solutions reaching M2M and beyond, delivering award-winning geo-positioning products to the broader electronics and OEM markets. With over 12 years exclusively only in M2M, the company constantly advances technology through a network of R&D centers around the globe; marketing products and services in over 80 countries.

For more information about Telit or other products, click here to go to Utility Products' Buyers Guide.