Engine lubricants: Royal Purple introduces commercial lubricant product line
Vehicle maintenance: Synthetic lubricant manufacturer Royal Purple® has introduced its new commercial lubricant product line, Duralec.
Jun 20th, 2014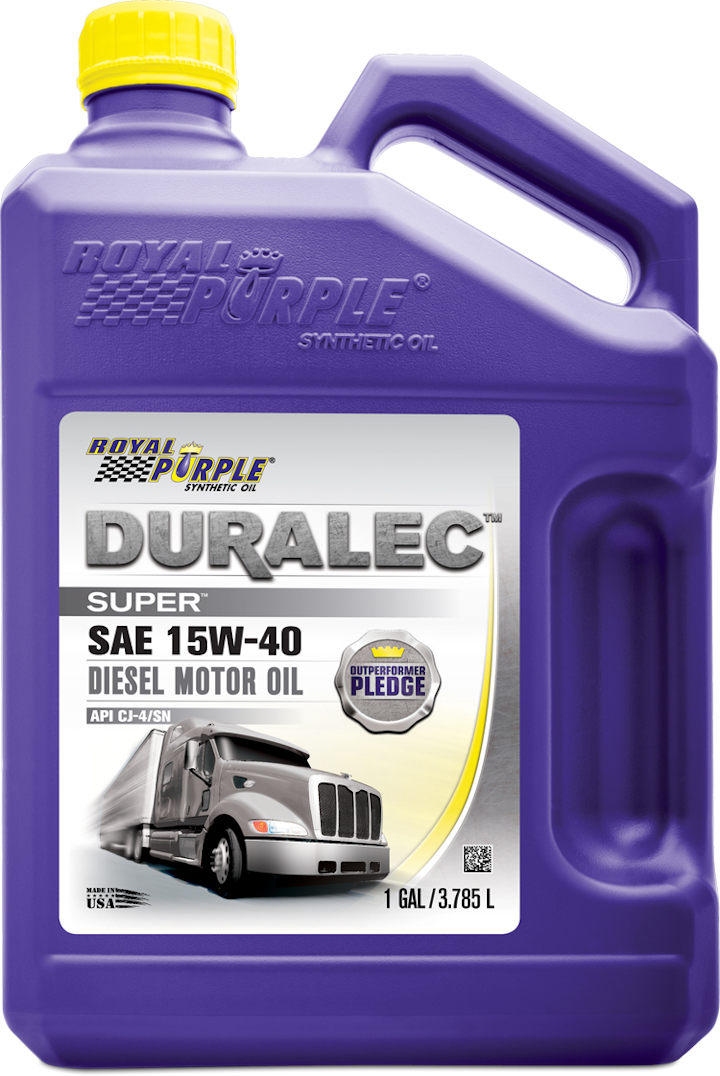 Fleet maintenance: Synthetic lubricant manufacturer Royal Purple® has introduced its new commercial lubricant product line, Duralec™. The new line of high performance lubricants has been specifically developed for the over-the-road trucking, construction, mining, agriculture and heavy-duty fleet markets with state-of-the-art technology to optimize equipment performance.
Duralec commercial products include heavy-duty motor oils, transmission fluids, gear oil, multi-purpose grease, coolant additive, tractor fluids, hydraulic fluids and diesel additives. Each formulated with Duralec's premium additive packages to deliver ultimate protection and peak performance in today's high-tech engines regardless of driving and operating conditions.

Some of the new products include:

Duralec™ Super™
5W-30 – 5W-40 – 10W-30 – 15W-40
Royal Purple's Duralec Super motor oils are high performance synthetic engine oils. They are made for EPA 2007 and 2010 emissions equipped diesel engines requiring the use of emissions compliant oil. Duralec Super is formulated to maximize component life, extend drain intervals and improve fuel performance. Its premium synthetic formulation has excellent high temperature break down resistance and low temperature pumpability to minimize cold induced startup wear.

Duralec™ Ultra™
10W-30 – 15W-40
Fortified with a high level of zinc/phosphorus anti-wear additive and Royal Purple's proprietary additive technology Synerlec®, Duralec Ultra is formulated to maximize performance and meet the demands of today's heavy-duty engines. It is recommended for use in both two-cycle and four-cycle diesel applications including automotive, commercial fleet and stationary industrial diesel engines. Duralec Ultra outperforms leading synthetic and conventional lubricants for both gasoline and diesel engines. It provides a lower coefficient of friction to save fuel and its synthetic solvency keeps internal engine parts cleaner than detergents alone. Duralec Ultra also provides superior oxidation stability that greatly extends drain intervals and minimizes harmful oil degradation.
Duralec ATF
Royal Purple's Duralec ATF is a synthetic high-performance automatic transmission fluid formulated for demanding operating conditions. The low co-efficient of friction and high film strength of Duralec ATF helps to dramatically reduce heat and wear, and is more oxidation-stable than other transmission fluids for longer fluid life. Duralec ATF is fully compatible most other automatic transmission fluids and can be mixed with these other automatic transmission fluids. Please see www.royalpurplecommercial.com for complete application list.
Duralec MTF
MTF 10 - MTF 30 – MTF 50
Duralec Manual Transmission Fluid is a blend of premium mineral and synthetic lubricants. It provides outstanding friction performance with both the metallic and nonmetallic friction materials found in today's hi-tech powershift transmissions. Combined with Royal Purple's additive technology, MTF promotes greater oil life, smoother brake operation, reduced gear wear, controlled powershift transmission friction and more reliable equipment. It also meets the requirements of Caterpillar TO-4, Allison C-4, API CF and CF-2, Eaton and Dana manual transmissions.
Duralec Gear Oil HD
Heavily loaded gears can gain maximum protection while maximizing power throughout the drive train by using the Duralec Gear Oil HD. Royal Purple's ultra-tough, high performance commercial automotive gear oil is recommended for use in truck and automotive front or rear differentials, manual transmissions and lower gear units of marine engines that specify use of an API GL-5 or GL-4 fluid, it makes gears run smoother, quieter, cooler and longer without overhauls.
For more information about Royal Purple or other products, click here to go to Utility Products' Buyers Guide.