Vegetation management: Brush cutter tractor from Jarraff
Line maintenance: Jarraff Industries launches new website for Geo-Boy Brush Cutter Tractor.
Dec 17th, 2014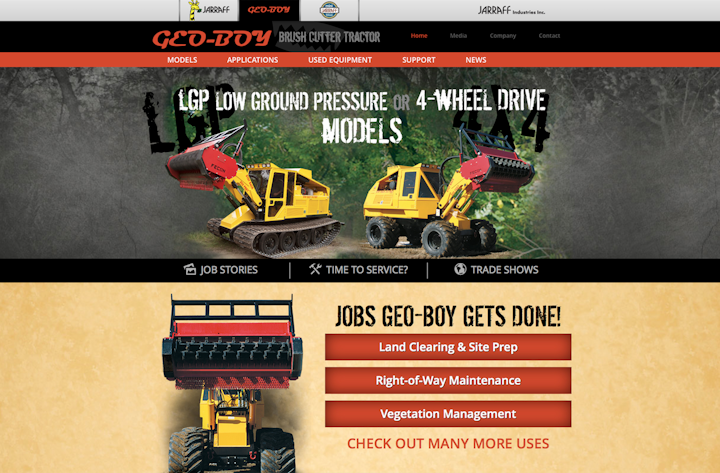 Utility equipment: Jarraff Industries recently launched a new comprehensive website for the Geo-Boy Brush Cutter Tractor. The easy-to-navigate site offers helpful information including technical specifications for the 4-Wheel Drive and Low Ground Pressure models.
The website also showcases the versatility of the brush cutter through the Applications section, where users can learn about specific brush cutting applications. The interactive site further allows visitors to take a closer look at the Geo-Boy's safety and capabilities features. Users can view job site photos and videos of the equipment in action.
Visitors can find Geo-Boy Brush Cutter Tractors for sale across the country in the Used Equipment section. In the News section of the site, the latest press releases, job stories, e-newsletters and trade show information is available.
The Geo-Boy Brush Cutter Tractor has the ability to lift the cutter head approximately 11 feet high and can quickly and effectively clear brush and trees up to 12 inches in diameter. With two tier III engine options, 220 hp and 260 hp, the Geo-Boy is more powerful, maneuverable and fuel efficient than other brush cutters in its class. The Geo-Boy is ROPS and FOPS certified.
For more information about Jarraff or other products, click here to go to Utility Products' Buyers Guide.