Automatic Vehicle Location Technology is Valuable for Fleets of All Sizes
When choosing a global positioning system (GPS) tracking software for your utility business, you should consider how many vehicles you have in your fleet.
Oct 7th, 2014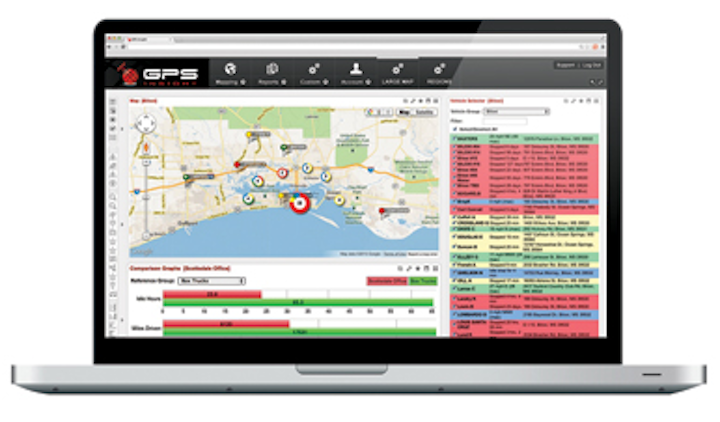 By Jenny Malcolm
When choosing a global positioning system (GPS) tracking software for your utility business, you should consider how many vehicles you have in your fleet. Whether your fleet is made up of 1,000 mixed-duty vehicles spanning across the US or if you just need a bucket truck and a few light-duty vehicles to operate your local business, automatic vehicle location (AVL) will provide valuable data and tools to improve your fleet operations. Whichever category your fleet falls under, it is important to do your research to ensure you find a solution that meets all your needs.
There are different capabilities you will require and challenges you will encounter based on your fleet size. Make sure you are prepared with the best solution to solve any fleet related challenge that comes your way.
Enterprise GPS Tracking Software
If you manage a large fleet with many different vehicles, it becomes more important to choose a solution with the capability to support a large amount of data and interpret it into actionable information. You will need software that can help you easily manage all vehicles and drivers across your fleet.
Hierarchy: With enterprise fleets, there are many moving parts that are likely spread over a wide geographical area. You want to make sure every vehicle is accounted for at all times and is being properly monitored, which can be accomplished with an AVL solution's hierarchy capability.
Many enterprise size businesses have multiple divisions, branches, etc. that lend themselves to a hierarchical structure. With the leading GPS fleet management providers, hierarchies can be customized geographically, by organization, or vehicle type to mimic your internal structure. This allows you to send customized reports and alerts to the correct people throughout your organization.
You can also customize further by classifying your vehicles by attribute. An attribute is a characteristic that can be associated with anything you are tracking. You may, for example, want to only view your trucks that have a boom in a particular part of town to dispatch to a jobsite. By including this attribute as a filter, you can view only the trucks with a boom in that area so you don't waste time looking at information that is irrelevant.
Simplify the management of every vehicle and driver throughout your organization with the right AVL technology.
Unlimited Historical Data: Some AVL solutions have a cap on how much historical data is available to your business and will purge the data at some point as well. This can be problematic if there is a dispute of any kind towards your business. The leading GPS fleet management solutions should be able to retrieve historical data from any vehicle in your fleet as far back as when they were equipped with GPS tracking devices. If you request this information from your provider, they should be able to gather this data for you in a reasonable amount of time.
You never know when a problem will arise, so you want to have an AVL partner that has the ability to give you the data needed to protect you against discrepancies or litigations.
Intermediate Fleet Size
If your fleet is large but does not have thousands of vehicles, you will still need more than just any out-of-the-box solution that only allows you to view dots on a map. The capabilities you obtain from top tier AVL technology will improve your fleet's operations in many ways. Use customizable software that will improve productivity, dispatching capabilities, maintenance procedures and more.
Customizations: With the ability to customize your software platform, you can create multiple dashboards for all the people on your team. A dashboard interface is a snapshot into fleet activity that displays maps, graphs, vehicle lists, alerts, etc. By creating dashboards with customized reports and alerts for people or departments throughout your organization, they will only view relevant reports, alerts, maps or administration that is needed for their jobs.
Creating customized dashboards for specific departments, such as maintenance for example, can help you stay in control of services that could be overlooked without the right organization. Automated maintenance makes fleet management simple by sending maintenance reminders to managers and drivers to ensure all vehicles received schedule services. By having someone specifically monitoring maintenance for a group of vehicles, you are likely to extend the lifespan of a fleet by not letting any service go overdue.
Groups: So what if your fleet doesn't require hierarchy but you still have different locations or departments that need to be monitored separately? Groups are another valuable functionality that can be used by intermediate size fleets to ensure all aspects of fleet management are monitored. Within an AVL solution, you can create groups for different departments, locations or vehicle types. This is another way to easily retrieve the most relevant data about your fleet.
Small Business Utility Fleets
If you are a small utility business that only has a few vehicles for your operations or if you are a small business that is rapidly growing, you will find value from AVL technology, as well. Small businesses need to investigate potential solutions based on their ability to save costs, increase productivity and efficiency, prevent theft, and the ability to scale the solution as the business expands.
Save Costs and Protect Your Fleet: As a small fleet, it is important to closely monitor areas where your fleet could be saving money and also finding ways to run your operations as efficiently as possible. Updating your older methods of fleet management will improve operations by preventing theft and unsafe driving habits, and automating a time consuming process will let your team spend their time more productively.
Keeping manual processes that can easily be automated will result in more mistakes, will increase labor costs, and make it much more likely that your business will encounter fuel, vehicle and labor theft. Without a system in place to closely monitor these metrics, it is easy for them to slip by unnoticed. Theft recovery is also much more likely with the use of AVL technology. Replacing stolen vehicles can be expensive and can even break a small business.
If you are worried that GPS fleet management will just become another expense, consider all the ways this investment will save you money in the long run. AVL solutions have been proven to cut costs across many metrics and typically deliver a complete return on investment and put money back in your pocket.
Scalability: If you are a small business that is growing, you will need to choose a GPS fleet management solution that can adapt if you need to track more vehicles later. In this case, you will need a scalable solution, meaning they have the architecture and resources in place to scale to your needs as your fleet expands, while maintaining the quality and integrity of the product. It will become a large problem later if you need to find a new solution because your current provider doesn't have the capability you require.
Whether you have an enterprise fleet with many vehicles or you are a small utility business with just a few in your operation, you will find value in AVL technology. The important thing during the buying process is to make sure you find a solution that is right for your business needs and fleet size.
For more information about GPS Insight or other products, click here to go to Utility Products' Buyers Guide.
About the Author: Jenny Malcolm is the marketing administrator for GPS Insight. She graduated from Arizona State University with a Bachelor's of Communication and is responsible for external marketing communication for all business segments that GPS Insight targets.