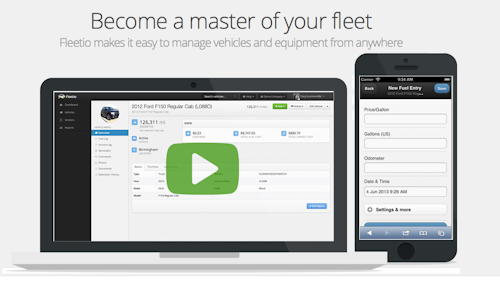 Fleet maintenance: Good information powers better decisions in fleet management, but capturing important vehicle data and making sense of it can be a time consuming process. With this in mind, Fleetio has released a new imports feature, which allows their customers to add bulk data to the software in seconds. This intuitive tool empowers users to upload unlimited vehicle details, fuel records, service history, employee profiles and more to their account with just a few clicks.
Fleetio customers, as well as those on a free trial of the web-based system, received this update automatically. In the few short weeks since its release, the import feature has already been utilized to add thousands of vehicles and associated records.
Tony Summerville, CEO of Fleetio, adds, "Our focus has always been on streamlining the use of fleet software, and simplifying the data entry process is a big win for our customers. The new import feature makes it easy for anyone to get started with Fleetio."
Fleetio users can choose from a number of available templates or upload their own file and walk through a few simple steps to identify where to send the data in their account. Anyone can try the imports tool and the full suite of Fleetio features for free at http://www.fleetio.com.
Fleetio is a web-based software solution for fleet maintenance management. It was founded in 2011 to provide a simple, yet powerful way to manage vehicles and log maintenance. Fleetio keeps track of an organization's vehicles, their records, and all past and future maintenance items. Our solutions allow customers to track mileage, handle maintenance on time, and securely store all vehicle information online. As a web-based system, our customers can access Fleetio anytime, anywhere.
For more information about Fleetio or other products, click here to go to Utility Products' Buyers Guide.