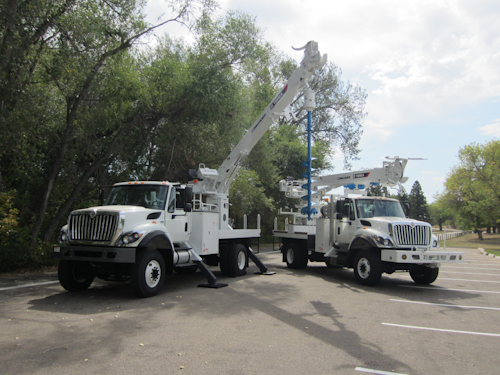 Utility vehicles: To deliver solutions needed in the field, Terex Utilities offers innovations with rapid-response capabilities in the utility equipment and aerial device market. By engaging with customers to develop new product concepts, as well as incorporating these concepts into their everyday work practices, the company's customer-centered approach focuses a core set of ideas: 1) Safe work practices; 2) Equipment spec'ing and availability; 3) Return on investment (ROI); and 4) Productivity ─ getting work done efficiently.
"The secret to being successful on any job is to equip crews with the right equipment to match the application. We know a customer's fleet is just an expense if it's not working efficiently and effectively for them," says Joe Caywood, director of marketing, Terex Utilities. "The Terex approach is focused on helping customers get each and every project done safely, quickly and at the lowest cost of ownership."
According to Caywood, Terex has already incorporated this approach into several current product designs and service offerings, including its Tru-Level Tilting Pedestal System, the Work Zone Capacity standard and its auger tooling offering like the Texoma Spiral Bullet Tooth Auger and interchangeable digger derrick heads.
Tru-Level Tilting Pedestal System
The Terex® Tru-Level™ Tilting Pedestal System for Terex SC and HRM Series aerial devices allows for operation on slopes up to 20 degrees to accommodate the need for "real world" truck positioning. This Terex system decreases stress on the rotation gearbox when rotating "up the hill," decreases set-up time because it eliminates the need to "crib" the outriggers and does not limit boom operation or load charts.
Work Zone Capacity
To help utility companies and contractors select the right size of digger derrick to complete the majority of their day-to-day tasks, a comparison called Work Zone Capacity is being promoted as a new industry standard by Terex. At its simplest, Work Zone Capacity highlights the ability of a digger derrick to perform the tasks that these trucks are built for -- digging holes and setting poles. The Work Zone Capacity standard reflects not only the digger derrick's boom lifting capacity, but it also accounts for the digger derrick's auger digging and lifting capacity. These capacities need to match the work that the operator is trying to do.
Texoma Spiral Bullet Tooth Auger
Designed with a unique tooth pattern that distributes the cutting action evenly, the Terex Texoma Spiral Bullet Tooth Auger offers digger derrick operators powerful production in virtually all ground conditions. The cutting pattern is designed to allow each tooth to cut a small track to increase cutting efficiency and tooth life. The cut pattern and tooth attack angle combine to make the bullet teeth act like "fingers" that penetrate through and lift up fractured or broken material. In many cases, a digger derrick equipped with this auger can drill in conditions that previously required a pressure digger.
"Additional concepts that Terex will introduce in the future are currently in the design and testing phases," finishes Caywood. "As we continue to solicit customers' feedback and opinions on these concepts, we gain a better understanding of what they need and how Terex can help provide solutions for those needs. Each and every one of our innovations is aimed at improving jobsite conditions, saving on operational costs and delivering real ROI."
In addition to its product and service offerings, Terex helps customers better able to manage capital and/or expense budgets, as well as asset risk, by utilizing a suite of financial solutions through Terex Financial Services. Terex Financial Services offers a range of finance and leasing solutions, structured to accommodate customers' cash flow and budgets. The Terex Financial Services team is equipped to assist in all areas of asset management, from the analysis of future equipment values through the disposal of used equipment.
About Terex
Terex Corporation is a diversified global manufacturer of a broad range of equipment that is focused on delivering reliable, customer-driven solutions for many applications, including the construction, infrastructure, quarrying, mining, shipping, transportation, refining, energy, utility and manufacturing industries. Terex reports in five business segments: Aerial Work Platforms; Construction; Cranes; Material Handling & Port Solutions; and Materials Processing. Terex offers financial products and services to assist in the acquisition of equipment through Terex Financial Services.
For more information about Terex Utilities or other products, click here to go to Utility Products' Buyers Guide.