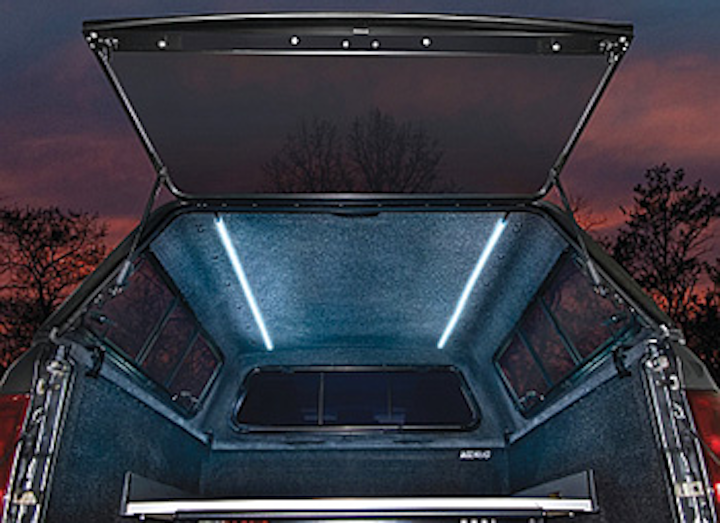 A.R.E has a new lighting philosophy: there's no such thing as too bright. The truck caps and tonneau covers company now offers LED lighting for above the rear-door and LED rope lighting to illuminate the interior of truck caps and toolboxes.
Wired directly into the vehicle's electrical system, the LED lighting options are rated for 100,000 hours, far outshining the 25,000-hour rating for incandescent lights. With A.R.E.'s optional prop switch, the LED lights are turned on and off when the door is opened and closed, or lighting can be controlled with the manual on/off switch.
Not only do the LED lights last longer, they are far brighter, use less energy and create less heat than incandescent bulbs. A.R.E.'s three-LED, 12-volt rear-door light replaces the incandescent light the industry has relied on for decades. Mounted inside the truck cap above the rear door, the LED fixture is noticeably brighter than tradition lighting.
The four-foot rope LED lighting offers a variety of ways to light up the interior of a truck cap or toolbox. Truck owners can opt for a single LED rope at the center of the cap or two parallel ropes, with one on either side of the cap roof. LED ropes can also be placed inside above the cap's windows. Inside toolboxes, an LED rope can illuminate the entire chamber.
For more information about A.R.E. or other products, click here to go to Utility Products' Buyers Guide.