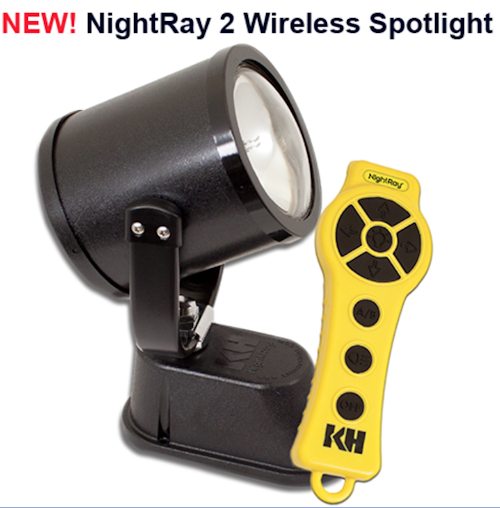 Utility safety: KH Industries' vehicle mounted remote controlled spotlights are the utility industry standard for nighttime line inspection and repair because of their durability in the harshest environments. These professional grade lights were made to withstand the rigors of the utility industry including snow, ice, saltwater, and rough terrain.
NightRay 2 Wireless Spotlight:
Choose from a one or two NightRay Spotlight System
• The TwinRay™ Controller will independently operate one or two NightRay 2 Spotlights from over 100'
KH's exclusive Nightwave™ transmitter technology provides clear and consistent, noise free communication.
The enhanced signal-to-noise ratio with KH's proprietary selective signal processing provides the technology for this state of the art NightRay 2 Spotlight System. Additionally, KH's exclusive multiple R.F. code sequencing with positive identification eliminates false signals from other R.F. transmitters and environmental noise.
NightRay Spotlights Feature:
• Durable polycarbonate exterior resists breakage and is snow, ice, UV, and salt water resistant
• Newly designed base and geared-clutch provide positive tension and resist damage from heavy vibrations
• Full lamp head rotation: 370°of motion on horizontal axis and 350°vertical tilt
• Open yolk design allows for trouble-free operation in snow and ice
• Electrical Operation: 12 VDC standard; Ask about 24 VDC
• 5 year limited warranty
• Made in the USA
There are several configurations available for each of our products! To see a full list of model numbers, detailed specs, and product photos, please go to http://khindustries.com/category/lighting/remote-control-vehicle-spotlights/
Or, for other product information, click here to go to Utility Products' Buyers Guide.