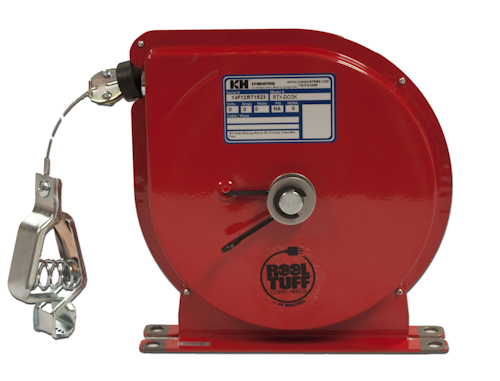 Utility supplies: KH Industries, U.S. manufacturer of industrial grade portable power and lighting products, has recently added to its ReelTuff Cord Reel product line RTX Static Discharge Grounding Reels.
KH Industries' RTX Static Discharge Grounding Reels electrically connect equipment to the ground, which prevents equipment from becoming sufficiently charged to cause a static spark that could ignite flammable vapors. RTX Static Discharge Grounding Reels are for utility maintenance and service applications including exterior mounting on utility trucks, maintenance shops, and fuel tank static grounding.
RTX Grounding Reels are built to NEC standards and feature all steel construction, corrosion resistant red powder coating, stranded steel cable, 100A grounding clamp, rubber ball stop, and constant spring tension to keep the cable from becoming tangled. Several models are available in different cable lengths and types.
Contact KH Industries for more information, including available models and pricing.
Phone: 716-312-0088
KH Industries is a state-of-the-art US manufacturer of industrial-grade portable lighting and power products for the utility, fleet, construction, aviation, chemical, petroleum, marine, and agricultural industries. KH Industries is located in Hamburg, New York.
For more information about KH Industries or other products, click here to go to Utility Products' Buyers Guide.