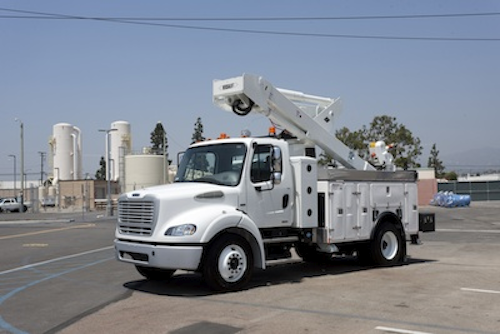 In 2011, Daimler Trucks North America, parent company of Freightliner Trucks, turned over the key to its 1,000th natural gas truck. Natural gas technology offers many economic and environmental benefits without sacrificing performance.

Switching to natural gas also can lead to significant fuel cost savings. As the cost of diesel continues to rise, lower cost natural gas prices remain relatively stable, making natural gas an economical choice to meet your vocational needs.

Freightliner's natural gas vehicles, including the M2 112 and 114SD, are powered by the Cummins Westport ISL G 8.9 liter engine, the only factory-built, dedicated natural gas engine available in the commercial vehicle market. These factory-installed and warranty-covered CNG tanks come in 60 diesel gallon equivalent (DGE) and 75 DGE configurations.
For more information about Daimler Trucks North America, Freightliner Trucks, or other natural gas trucks, click here to go to Utility Products' Buyers Guide.