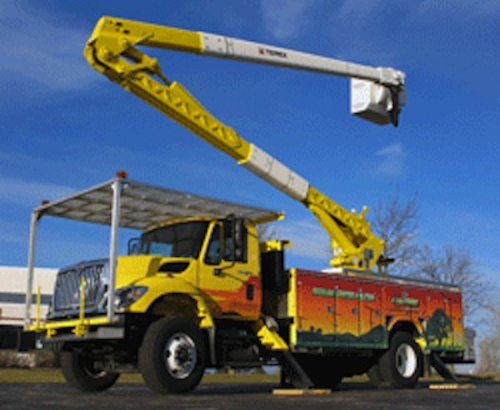 Waukesha, Wis.—Waukesha based Odyne Systems LLC, a manufacturer of hybrid systems for medium- and heavy-duty work trucks, showcased its new advanced hybrid propulsion system at the NTEA (National Truck Equipment Association) show March 6-8 in Indianapolis, Ind. The Odyne Hybrid Power plug-in system is designed to interface with a wide variety of truck mounted equipment, lowering fuel consumption by up to 50 percent, reducing emissions and providing quieter operation at the work site.

Odyne's plug-in hybrid truck system increases fuel efficiency and power while driving by using a rugged Remy electric motor in parallel with the existing drivetrain to provide launch assist and regenerative braking. At the job site, the Odyne hybrid plug-in battery system, featuring Johnson Controls' lithium-ion battery packs, powers typical work site applications with the engine off for a much longer time than other commercially available large truck hybrid systems.
For more information about Odyne Systems or other advanced hybrid propulsion systems, click here to go to Utility Products' Buyers Guide.