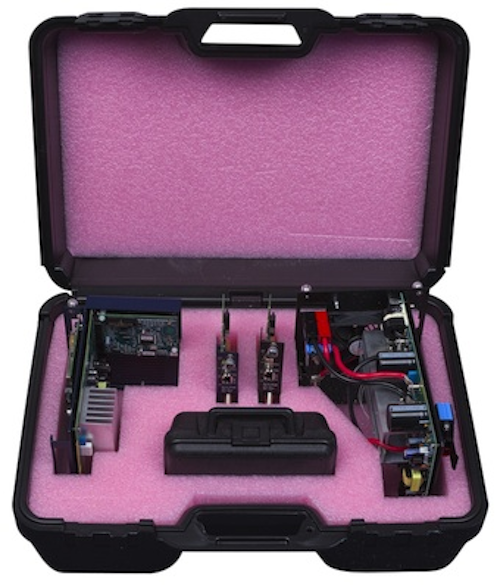 Bellingham, Wash.—Alpha Technologies, a power solutions provider, announces the Smart-Pack Dual Inverter Module Case, capable of housing up to two Alpha Power Supply Inverter Modules in a single, durable, easy-to-transport protective case.

A properly functioning Inverter Module is critical for a power supply to provide backup power. To minimize downtime and keep broadband communication systems operational during service regimens, Inverter Module replacement needs to be quick and efficient. When unprotected, Inverter Modules are extremely susceptible to damage due to the exposed circuit board and other critical components.

Alpha's Dual IM Case offers technicians a rugged, lightweight case manufactured specifically to house Alpha Inverter Modules, while providing additional compartments to store other spare components. The Dual IM Case has a strong, hard exterior with a soft cushion interior to protect the Inverter Modules from damage in transport. In addition, the pink interior cushioning is indicative of its antistatic characteristic, which minimizes the chances of static electricity-induced damage to circuit boards.

To avoid unnecessary truck rolls, technicians can now keep an emergency supply of Inverter Modules and other spare components in the maintenance truck to be used in the event of unexpected component failures while in the field. Because it houses Inverter Modules for both Alpha XM2-HP and XM3-HP power supplies, customers have the ability to customize their case with specific components as needed to best fit their network.

"This product allows our customers to add another level of protection and reliability to their network, and helps minimize unnecessary and costly truck rolls," said Jim Heidenreich, VP Product Management.

The Smart-Pack Dual IM Case is now shipping to Alpha's worldwide customer base.
For more information about Alpha Technologies or other dual inverter module cases, click here to go to Utility Products' Buyers Guide.