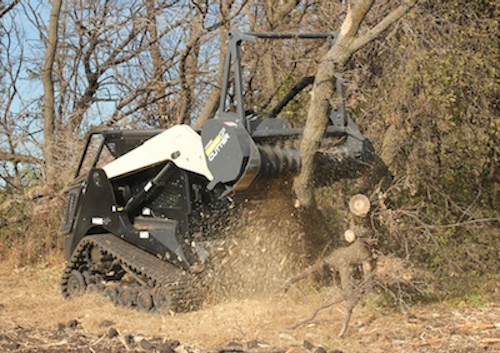 Hector, Minn.—As part of its VMLogix line of products, Loftness introduces the Carbide Cutter G3 high-performance mulching head attachment for skid steers. This new generation product incorporates the latest cutting-tooth technologies and power drive systems, while maintaining the rugged reliability expected of Loftness equipment.

The Carbide Cutter G3 is available with 51-, 61- and 71-inch cutting widths. All models are offered with a variety of carbide-tipped and heat-treated steel teeth to match any job application. The precisely engineered spiral tooth pattern on the rotor ensures continuous tooth contact with the material being cut.

For maximum cutting performance, the Carbide Cutter G3 features a two-stage cutting chamber with staggered counter teeth and a shear bar. This combination of features results in small particle sizes, while eliminating the jamming and wrapping issues associated with competitive products. An optional primary-stage shear bar is also available for ultra-fine mulching.

The mulching heads operate at 1,700 to 2,150 RPM and feature a four-groove banded belt drive with spring-loaded tensioner. They come standard with a fixed-displacement, piston-style motor that delivers hydraulic power at 97-percent efficiency, which is much higher than traditional gear-type motors offer. The fixed-displacement motor can be upgraded to the innovative V-Drive system that includes a variable-displacement motor with load-sensing technology. Under light loads, the V-Drive system operates at maximum RPM, and as the load increases, it automatically lowers the rotor RPM to maximize torque.


The mulching head offers full rotation, thanks to specially designed hose routing. This feature also allows the unit to easily position trees with the adjustable push bar and welded claw hooks. The push bar can be used to push falling brush and trees away from the power unit, and the claw hooks can pull material into position for proper feeding. Hydraulic push bar adjustment is optional.

The Carbide Cutter G3 is also designed for maximum durability. For instance, high-strength Hardox steel is used in areas exposed to high wear. Furthermore, the Carbide Cutter G3 is equipped with a custom hydraulic control valve that protects the unit from pressure spikes, and it also stops the rotor quickly on shut-down without damaging the components.

Other standard features include an on-board pressure gauge, steel deflector chains and adjustable skid shoes. Tooth options include Standard Carbide teeth, Planer Carbide teeth and Quadco Planer Blades.
For more information about Loftness or other mulching head attachments, click here to go to Utility Products' Buyers Guide.