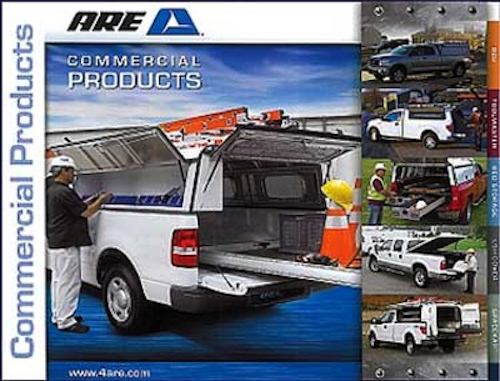 A new A.R.E. Commercial Products catalog is available, highlighting the manufacturer's complete line of truck caps and organizational bed solutions for the work truck and fleet markets. The 27-page, full-color catalog features construction details on A.R.E. truck caps, along with in-depth product overviews that describe the various window, door, toolbox and lighting options available to truck owners.

The Deluxe Commercial Unit (DCU) is A.R.E.'s flagship commercial product, offering strength, durability and a long work life without excess weight. Made of fully welded, aluminum frame construction, the DCU is available in cap heights from 20-36 inches and features STRATTEC lock cylinders in folding T-handles on all doors. A.R.E. offers more than 200 options to customize the DCU, including a variety of door and window configurations, toolboxes, ladder racks, roof racks, interior fabric liners, side panels and organizational solutions.

A.R.E. also offers the ToolMaster Series, a fiberglass truck cap featuring heavy-duty doors, two steel toolboxes-each with a 120-pound weight capacity-and a commercial-grade Prime Design AluRack roof rack with a ladder rack roller.
The LSII Series tonneau cover and the SpaceKap-a versatile, self-contained mobile unit constructed of double-sided, fiberglass walls and designed to increase efficiency-also are part of the A.R.E. Commercial Product line.

A.R.E.

For more information about A.R.E. or other truck storage products, click here to go to Utility Products' Buyers Guide.