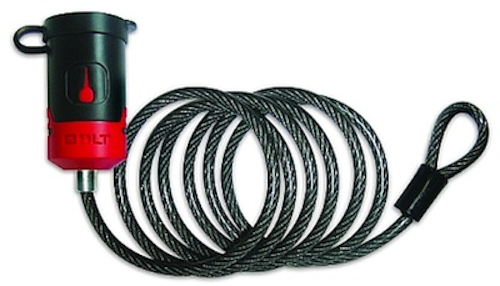 Milwaukee—STRATTEC Security Corp., an automotive lock and key manufacturer, offers 6-foot BOLT Cable Locks featuring a pin and loop design to provide flexible length options.

The BOLT Cable Locks are made from 1/4-inch coiled cable with 1/16-inch black vinyl coating and are coil sprung for compact storage. They feature Breakthrough One-Key Lock Technology, which permanently programs the lock to the owner's vehicle ignition key. Once the ignition key is inserted into the lock cylinder, spring-loaded plate tumblers move up and down until they are matched exactly to that key. The first time the key is rotated, the cylinder is uniquely coded to that key.

"Professionals use multiple cable locks on the jobsite, and that can mean countless chances for misplaced keys and lost productivity," said Sales Manager Erika Garcia. "Our patented technology simplifies this by delivering one-key convenience and eliminating the need to carry extra keys. Plus, our auto-return spring automatically locks when the key is removed for added security."

The BOLT Cable Locks feature an automotive-grade lock shutter to keep out weather and debris and a six-plate tumbler sidebar that prevents picking and bumping.

BOLT Cable Locks are year/make/model specific—they work with most General Motors, Ford and Chrysler/Jeep vehicles on the road today—so numerous locks can be used with one vehicle ignition key. Additional locks such as padlocks, receiver locks and spare tire locks are also available.

For more information about STRATTEC Security or other lock and key products, click here to go to Utility Products' Buyers Guide.