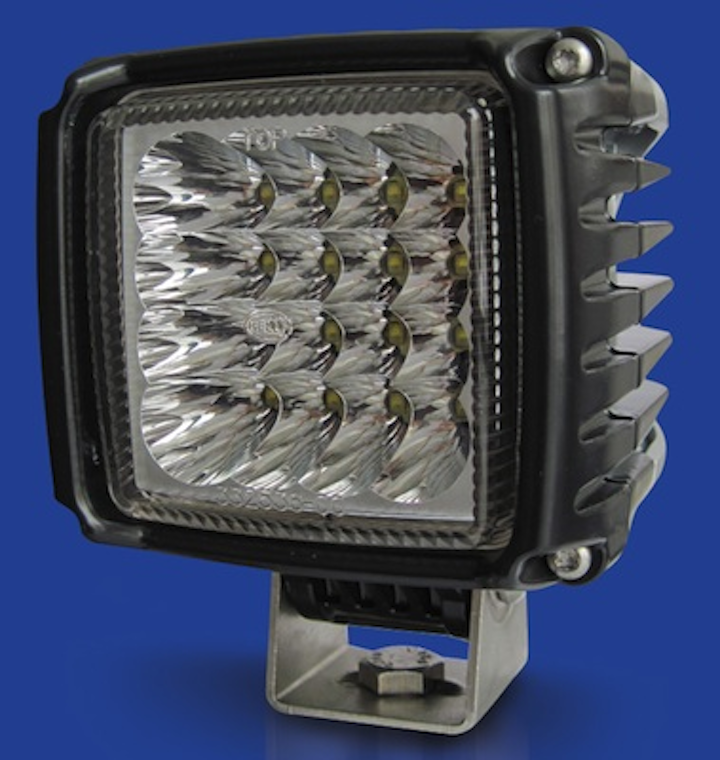 Peachtree City, Ga.—Hella Inc., the North American aftermarket subsidiary of automotive lighting and electronics supplier Hella, announces the release of its new Hella Power Beam 3000 LED Work Lamp. This new lamp is extremely powerful and very efficient, consuming substantially less electricity than standard halogen work lamps. The Hella LED lamp provides an exceptional output of 3,000 lumens and requires only 43 W of power. It is ideal for highway, agricultural, construction, municipal, forestry equipment and heavy-duty work truck applications.

The Hella Power Beam 3000 uses 16 long lasting LEDs to create a powerful white light closest to daylight and more efficient than Xenon-based lamps. It is available in both close and long-range illumination models. Hella also incorporates its innovative Free-Form reflector technology, which is designed to deliver more light output and provide a more precise beam placement than conventional lamps. Due to its very low power consumption, the Hella Power Beam 3000 has a lifespan of over 60,000 hours and will last more than 350 times longer than a traditional halogen lamp.

The Hella Power Beam 3000 utilizes a specially developed integrated thermal sensor to protect against overheating and also has built-in overvoltage and reverse polarity protection. It is also extremely resistant to mechanical action by nylon dispersion lenses. The Power Beam's housing is made of tough die cast aluminum for light weight and good heat dissipation and is mounted with a stainless steel bracket. Built-in shielding also helps protect against interference with other nearby electronic devices.

The Power Beam 3000 has a multi-volt operating range from 9 - 33V. It comes completely sealed from the factory and requires no additional service. The lamp is encased in a sturdy aluminum die-cast housing, which is sealed to IP6K7 and IP6K9K for harsh conditions.

The Hella Power Beam 3000 is very compact for its overall power output, measuring only 5.68" H x 4.48" W. It can operate in ambient temperature ranges from -40F to 12°F and requires an integrated Deutsch plug connection. The Power Beam 3000 LED also meets Hella Norm N67101 - Class 7.2.
For more information about Hella or other work lamps, click here to go to Utility Products' Buyers Guide.