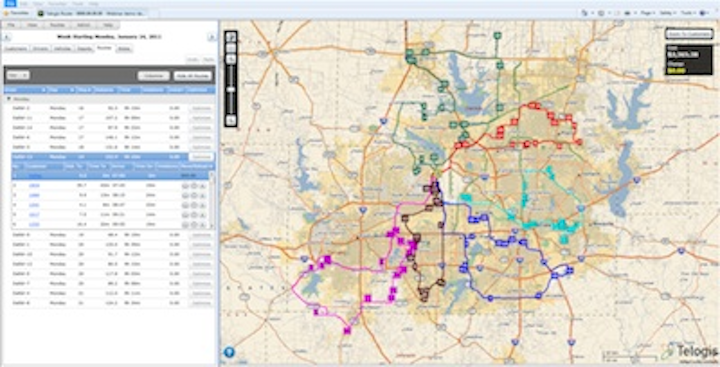 Aliso Viejo, Calif.—Telogis Inc. announces the release of Telogis Route 3.0, a powerful new version of the Software-as-a-Service (SaaS) multi-vehicle route optimization application featuring a new patent-pending "Advanced Territories" technology. Advanced Territories allows companies to give geographic-centric routes to drivers without limiting routing options to those boundaries.

"Other routing tools on the market require the customer to create hard-lined geographic borders that limit routes to being sequenced within those boundaries," says Newth Morris, president, Telogis Route. "This approach is very time consuming, often requires an on-site expert, does not take into account dynamic variables such as holidays, business hours and customer requests, does not support frequency-based service visits and results in extremely inefficient routes. With Telogis Route 3.0, we're able to loosen those geographic constraints to ensure the most intelligent and cost-efficient routing scenarios while also taking into account all of the other variables that drivers and customers encounter each day."

Built off the extensive infrastructure of the Telogis Cloud, Telogis Route 3.0 is driven by massive computing power that offers greater response speed and functionality than competitive route optimization systems. As a web-based solution, Telogis Route 3.0 is easy to deploy across decentralized organizations without the added cost of new infrastructure, such as server hardware. Since it is offered as a subscription-based service, users see an immediate return on investment compared to traditional routing packages that have long implementation cycles and require dedicated on-site personnel.

Telogis Route 3.0 provides businesses with direct visibility into the costs of running a fleet. The system allows users to track costs for created routes and even provides an "immediate feedback on costs" feature that provides an instant evaluation of routes based on fixed and variable costs, fuel costs, labor costs and other variables that affect the bottom line. Telogis Route 3.0 also provides full support for business constraints such as driver specialties, customer availability and equipment available on a truck to ensure that customer needs are met every time.

Telogis Route 3.0 supports various vehicle types and seamlessly integrates with the Telogis Fleet GPS-based fleet management system, Telogis Progression work order management platform and Telogis Mobile handheld application to provide a single-sourced platform for dynamic routing, real-time work order management, telematics and mobile integration.

For more information about Telogis or other routing products, click here to go to Utility Products' Buyers Guide.