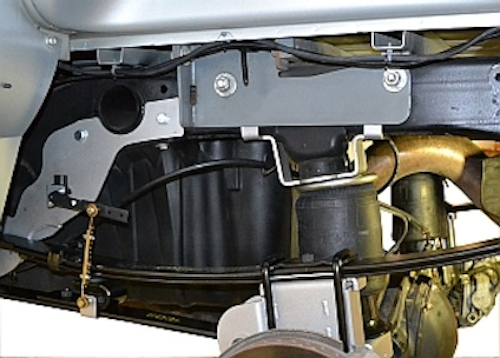 Indianapolis, IN — Utility truck suspension systems from Firestone Industrial Products — new Lifted R4Tech systems — are available for 2011-2012 Chevrolet Silverado/GMC Sierra 2500 and 3500 trucks, both 2WD and 4WD applications for all cab and bed configurations.

The utility trucks R4Tech suspension system is a proprietary, hybrid air-over-leaf suspension system featuring Firestone Airide air springs, Firestone Ride-Rite air accessories and SANLUIS Rassini suspension technologies. Designed to replace the factory leaf spring suspension, the R4Tech system comprises a high-quality Firestone air spring and SANLUIS Rassini's leaf-spring suspension, positioned in a unique architecture to create a fully functional suspension system that adjusts for varying load capacities.

The Lifted R4Tech suspension system is available for utility trucks with 6-inch front lift kits. The Lifted R4Tech system is rear-only, so enthusiasts will need to buy a front-only lift kit that will be paired with the rear Lifted R4Tech system.

"In our industry, we come across many enthusiasts who tow with their lifted truck. In these cases, ride quality and functionality are sometimes compromised," said Paul Fessel, Division Manager, Light Duty Business, Firestone Industrial Products Company. "The Lifted R4Tech systems are designed to improve the ride quality of an unloaded, lifted truck while delivering level towing when loaded. The suspension is the best of both worlds: excellent ride coupled with great towing capability. As a matter of fact, some of our ride evaluations show that the Lifted R4Tech system rides as good as or better than stock height R4Tech systems."

Developed to allow the suspension to move at all load conditions, the R4Tech system isolates and absorbs road impact for passengers and cargo, delivering an improved ride at all times by utilizing the variable spring rate of the air spring to stiffen when the truck is loaded and soften when it's unloaded. It also increases axle control during acceleration and braking for improved torque management and reduced wheel hop.

The Lifted R4Tech system comes with the Rassini foundation suspension — including leaf springs, lower trailing link, J-spring and mounting brackets — the Airide air spring and an air compressor control system that maintains the proper air level in the spring for the exact load you're carrying. Shocks are not included in the lifted systems.

For more information about Firestone Industrial Products or other suspension systems, click here to go to Utility Products' Buyers Guide.