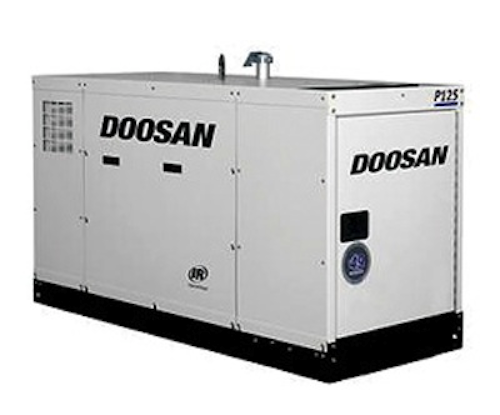 Doosan Portable Power, a manufacturer of rugged and reliable compressors and portable power equipment, has introduced the P125WJDU utility mount air compressor with auxiliary drive option. The P125WJDU is powered by the same Tier 4i compliant engine as the P185WJDU offering but includes a separate gear set on the airend.

This feature allows operators to use the auxiliary drive for hydraulics and other resources with the flip of a switch. The P125WJDU is especially useful for paint striping applications, allowing operators to utilize the auxiliary drive to power a paint stirrer.

The new utility mount P125WJDU air compressor offers impressive performance with a free-air delivery of 125 cfm and rated operating pressure of 100 psig. The P125WJDU is powered by a Tier 4i compliant John Deere 49-hp diesel engine for enhanced versatility.

The P125WJDU compressor design offers easy access to all major service points, a feature that helps streamline routine maintenance. The P125WJDU is equipped with full-sized, locking end doors that allows faster inspections of fluid levels, filters and battery access, and the unit's fully removable side panels allow easy access to all components. Curbside access to all controls and monitoring gauges ensures operator safety and convenience.

For more information about Doosan or other compressors, click here to go to Utility Products' Buyers Guide.