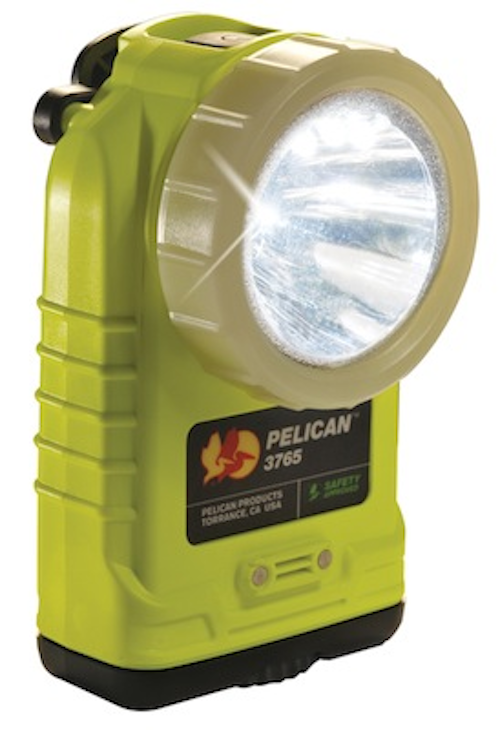 Torrance, Calif.—With first responder professionals in mind, Pelican Products, a designer and manufacturer of advanced portable lighting and high-performance protective case solutions, has introduced the 3765 LED Rechargeable flashlight.

This lightweight and rugged lighting tool was designed for the worst case scenario. Featuring the all new downcast lighting mode which incorporates three 5mm LEDs (32 lumens) to safely light the way, the 3765 LED Rechargeable will help first responders navigate through dark and smoky situations. When used in downcast only mode, it enables first responders to read/write documents and reports as well as converse without blinding fellow responders. When combined with the light's main LED, it generates up to 172 lumens.

In addition, the 3765 LED Rechargeable offers four light modes—high (172 lumens), low (94 lumens), downcast (32 lumens) and signaling (140 lumens). Powered by a 4 AA Nickel Metal Hydride rechargeable battery pack, its run time is 3 hours, 15 minutes on high with 5 hours, 15 minutes on low and 14 hours, 30 minutes in downcast mode.

Other first-responder-friendly features include a four-level battery life indicator (via blue LEDs built into the switch), a tethered battery door so it won't get lost in the field, an IPX4 water resistance rating and a durable mounting clip. Constructed of nearly indestructible polymer, this flashlight has been rated for a drop test of 2 meters. In addition, it carries a Class I, Division 2 rating, which allows for safe usage in many volatile environments. The 3765 has passed the NFPA 1901 for security when mounted in first responder vehicles.
For more information about Pelican or other flashlights, click here to go to Utility Products' Buyers Guide.