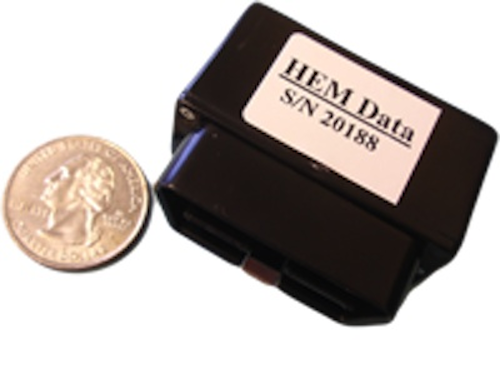 HEM Data's DAWN OBD and J1939 Mini Loggers are compact, low-cost, data loggers designed to acquire CAN bus data from cars and trucks. Options that fit within the logger include GPS and WiFi.

Install simply by inserting the logger directly on the J1962 OBD or J1939 connector. The logger is so small that it fits in the palm of your hand.

The companion DawnEdit software determines which parameters are available on the vehicle to create a unique database for each vehicle model. The user can select which parameters to acquire and the rate. Also, the user can add custom messages to acquire proprietary parameters.

The logger has two CAN channels and will acquire PIDs, PGNs, custom messages and enhanced OBD (EOBD) data.

For more information about HEM Data or other data loggers, click here to go to Utility Products' Buyers Guide.