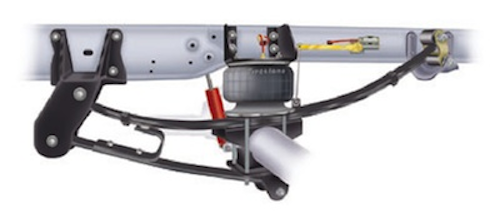 Indianapolis, Ind.—A new Firestone Industrial Products Company, LLC R4Tech air suspension system is available for 2011-2012 Ford F-450 4WD Long Bed trucks (part # W287600147).

The R4Tech kit is a hybrid air/leaf suspension system designed to replace the factory leaf spring suspension. It delivers an improved ride at all times by using the variable spring rate of the air spring to stiffen when the truck is loaded and soften when unloaded.

Featuring Firestone Airide air springs, Ride-Rite air accessories and a SANLUIS Rassini leaf-spring suspension, the R4Tech kit creates a fully functional system that adjusts for varying load capacities. It also improves headlight aim and driveline angles independent of load conditions, and delivers improved towing effectiveness.

The complete R4Tech system comes with the Rassini foundation suspension—including leaf plates, lower trailing link, J-spring, spring perches and mounting brackets—the Airide air springs and an air compressor control system that maintains the proper air level in the spring for the exact load you're carrying. Professional installation is recommended for R4Tech systems, which easily install using the same factory holes as the OEM leaf suspension.

Trained technicians are available toll-free (800.888.0650) to answer any product application, installation or warranty questions Monday through Friday from 7:30 a.m. to 4:30 p.m. EST.
For more information about Firestone or other air suspension systems, click here to go to Utility Products' Buyers Guide.