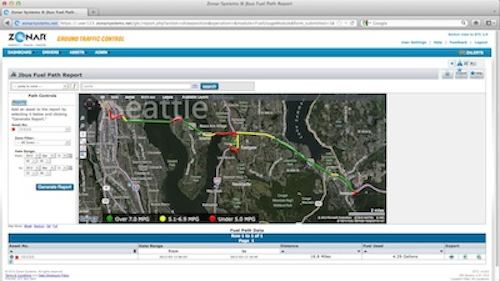 Zonar, a provider of electronic fleet inspection, tracking and operations systems, offers a new, patent-pending technology that adds fuel as a fifth dimension to the firm's high definition global positioning system (HD-GPS) reporting.

Used by private and public fleets, Zonar's vehicle telematics platforms have always utilized four-dimensional—latitude, longitude, time and odometer—GPS reporting. This methodology offers users the highest value at a competitive cost because it ensures data is captured and transmitted only when it needs to be, not just based on an established time cycle. Now, with the addition of fuel as the fifth dimension, Zonar's telematics platforms will not only determine sample rates based on geographical data, but also fuel consumption.

The sampling methodology accounts for route and driving changes. If a vehicle is driven in the city with frequent stops and turns, for example, the computer samples much more frequently than if the vehicle is driven down a long, straight highway.

Employing Zonar's patent-pending technology, fleets will now be able to easily identify, with much detail, the routes and lanes where their vehicles are most and least fuel efficient.

For more information about Zonar or other GPS tracking products, click here to go to Utility Products' Buyers Guide.