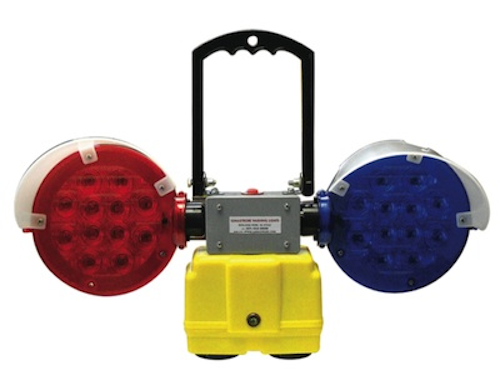 Midland Park, NJ — For utility safety, Lumastrobe offers safety lighting with it's Model PD-12RB-M police portable warning lights. Lumastrobe, a manufacturer of battery power emergency lights, announces that its inexpensive unit features two 7-1/2" super bright LED flash heads — one red the other blue — which alternate flash 60 double flashes per minute. (Many flash head color combinations available; red, blue, amber, white & green.) Light weight, 9-1/2 lbs. with two lantern 6V batteries that will flash for over 250 hours per set of batteries. Measures 13" H x 23" W x 4" D.

The safety lighting's sturdy handle facilitates transport and hanging, and its two 50 lb. pull magnets on the base are for secure mounting on metal, car or equipment. A tamper-proof bolt allows for mounting on barricades, safety barrels or horses. The lights are very bright and can easily be seen at 1/2 mile.

For more information about Lumastrobe or other safety lighting, click here to go to Utility Products' Buyers Guide.